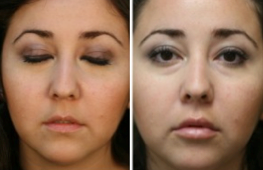 In an age where technology continues to  rapidly advance, so does the role that it plays in our lives. With the rise of  Facebook, Twitter, and Skype, people are constantly viewing photos and videos of themselves on an everyday basis.  While evaluating our appearances in these mediums, people are able to see themselves from multiple angles, profiles, three-quarters views, etc.  Historically, people evaluate their aging faces from the frontal angle of a mirror.  With the advent of the new technology and the ability to view our faces from multiple angles on a regular basis, patients are able to appreciate the changes in their face as we age.  I believe this ability to more thoroughly evaluate the facial structure through technology is leading to an increase in facial cosmetic procedures.
For example, when a person is video chatting, they're often looking slightly downward, which can accentuate a weak chin.  Viewing ourself from the profile, we can see the loss of definition in the jawline or the droopiness or hooking of the nose.  In all of these cases, we are  able get to see our appearances from multiple angles as we age.
At Carolina Facial Plastics in Charlotte, I listen to my patients concerns and will offer several different surgical and non-surgical facial cosmetic procedures that can help a person achieve their desired look.
Lip Augmentation
As one of the most sensitive areas of the face, it's necessary to visit an experienced facial plastic surgeon when seeking lip augmentation or correction surgery.   With my patients, I start off conservatively during lip augmentation.  With adding volume to the lips, it is always easier to add more volume than to remove it.  I also understand that people want their lips to appear natural, and my technique prevents the "done" or duck lip appearance.  At Carolina Facial Plastics, I use a needle-less filler technique, a cannula, which offers patients a much more comfortable approach to attaining their desired appearance while still providing the same great care and results.  I also inject in the deep fat pad of the lip that prevents the unnatural result that many patients experience during a lip augmentation procedure.   A lip augmentation can be tailored uniquely to the needs of the individual interested in the procedure, making it completely customizable and a great solution for those who wish to add a touch of volume to their lips.
Chin Augmentation
Another common problem area that is gaining more interest from patients is the chin. When someone sees their face on a computer screen or phone screen, its generally for much longer  than they would notice if they were to take a quick glance in the mirror, which leaves them to analyze their appearance in greater depth. A chin implant or a non-surgical chin augmentation is often a great solution for those wishing to correct a weak or soft chin or a short jaw line. Deciding to undergo a chin implant can improve the overall appearance and balance of the face and facial features.
As a specialist in chin augmentation, I take the time to explain to my patients that because the chin and nose have a close relationship,  there interaction can either provide balance or disproportion to the face.   For this reason, many times patients undergoing a rhinoplasty will also undergo a chin augmentation to provide the best results.
Schedule Your Consultation Today
At Carolina Facial Plastics, I aim to bring my clients the best outcomes following their cosmetic surgery. As a board certified head and neck surgeon who is trained in facial plastic and reconstructive surgery, I know that it takes time and patience to provide the most optimal results. If you're interested in learning more about how I can help you achieve your desired look, please contact Carolina Facial Plastics today to schedule your initial consultation by calling (704) 842-3644.