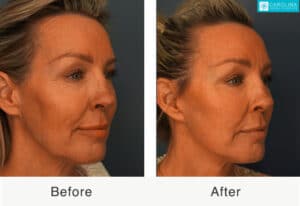 Facelifts remain one of the most sought-after plastic surgery procedures for addressing wrinkles, sagging skin, and other signs of aging. Facelifts have also evolved over the years, adapting to technological advances and innovative techniques, allowing patients to achieve more natural-looking results. However, many are not aware of the procedure's updates and upgrades and base their views of facelifts on outdated or false information.
My team of cosmetic experts, including board-certified physician assistant Heather Bryant and board-certified nurse practitioner Courtney Whitley, work with me to focus 100% on facial cosmetic treatments. We can perform both surgical and nonsurgical aesthetic procedures designed to fully enhance your unique attractiveness. It is this focus that gives Carolina Facial Plastics in Charlotte, NC its expertise in producing exceptional results in facial enhancements. We understand that there are many unfounded myths surrounding facelift procedures, so we're here to provide real answers to all your questions. Armed with facts, you'll see why 56,084 patients in the U.S. chose to undergo this surgery last year.
Myth #1 Everyone Will Know I've Had Surgery
One of the most common myths surrounding facelift surgery is that your face will look fake after surgery. A patient having a frozen or wind-blown appearance is actually a product of an unsuccessful facelift. An experienced, board-certified facial plastic surgeon should be able to create a natural-looking appearance by using the most advanced approach. Furthermore, the best surgical techniques enable incisions to be virtually invisible, and bruising can be easily hidden up with makeup.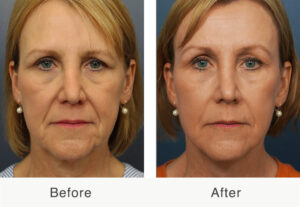 MYTH #2 I Don't Need a Neck lift and a Facelift
You might be too focused on your facial wrinkles to give your neck the attention it needs. The neck's skin is thinner than facial skin, and sun damage on top of internal changes makes the neck show signs of aging sooner than other body parts. A facelift without a neck lift may distract from your facial rejuvenation and direct the viewer's attention to your crepey or saggy neck. Nobody wants an unbalanced look. This is why I almost always recommend combining a facelift with a neck lift at our Charlotte, NC plastic surgery clinic. I can perform a neck lift and facelift together to give you a complete transformation.
MYTH #3 I Won't Look Like Myself After a Facelift
It's the facelift's goal to preserve your fundamental appearance and to only enhance your natural beauty. You should still look like yourself—only more refreshed and younger. When a surgeon uses the proper and most advanced techniques, you should be able to achieve your desired results without any cause for concern.
MYTH #4 Men Don't Get Facelifts
Women and men deserve to look and feel their best, and both can benefit from a facelift's power to boost self-confidence. A facelift gives a man the opportunity to refresh his appearance while restoring masculine features such as strong cheekbones or a chiseled jawline. More and more men are becoming aware of the advantages of having a rejuvenated appearance, especially in the competitive workplace where youth remains a coveted feature.
MYTH #5 I'm Too Young for a Facelift
There is no age requirement for a facelift. While it is a fact that older people may exhibit more apparent signs of aging, sun exposure, genetics, and lifestyle play a significant role in the natural aging process. Therefore, everyone will age differently. While one 40-year-old might be an ideal candidate for a facelift, another person who is 50-years-old might not need surgery for another 5-10 years.
MYTH #6 Aging Stops After A Facelift 
While a facelift's results are long-lasting, they cannot stop the natural aging process. Your face will still age, so you will likely still develop lines and pigment issues, which, fortunately, are treatable. Cosmetic treatments such as laser resurfacing can serve as an adjunctive facelift procedure to help you maintain healthy, youthful-looking skin.
MYTH #7 Other Treatments Can Achieve the Same Effects
When I combine Botox Cosmetic and fillers, I create what is referred to as a "liquid facelift" that can rejuvenate the face remarkably well. However, the intent of these injectables is not the same as a facelift. While I use injectables to treat lines and wrinkles or to create new facial contours, only a facelift can provide a more dramatic and comprehensive transformation because it can also address loose, sagging skin, weak underlying muscles, and connective tissues. Injectables also have a much shorter lifespan than a facelift.
MYTH #8 Recovery is Too Painful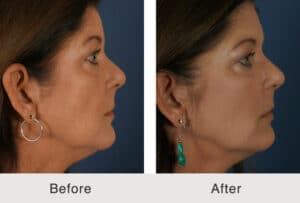 A well-performed facelift causes minimal pain. Most of my patients only require Tylenol during their recovery. I provide prescription pain medications that some patients use for the first few days after surgery, but in general, most of my patients report that the procedure is less painful than they had anticipated. Those who strictly follow my post-treatment aftercare instructions tend to experience the most comfortable recovery period.
Furthermore, Carolina Facial Plastics is the only SouthPark practice that has its own fully accredited surgery center and luxurious recovery retreat in the same building, providing patients with the highest level of care and comfort in a discreet yet welcoming atmosphere. The Fairview Recovery Retreat is a post-operative retreat center designed to deliver post-surgery care in a luxurious, 5-star-hotel setting. You'll receive VIP treatment and attentive medical care as you recover, which will help reduce downtime and get you back to your normal schedule as quickly as possible.
MYTH #9 I Can't Afford to Take Weeks Off Work to Recover
It's all a matter of planning. Most patients are back to their regular activities after just two weeks, and some are back even sooner. So, take a look at your calendar and select the best time to book your surgery. Also, you won't need to keep coming back for regular treatments after a facelift, only touch-ups, so you'll end up spending less time away from work and other activities in the long-run.
MYTH #10 All Facial Plastic Surgeons Are the Same 
Not all facelifts are created equal because the education, training, technique, and artistry will vary among plastic surgeons. I underwent extensive facial plastic surgery training from two renowned Beverly Hills plastic surgeons, Dr. Babak Azizzadeh and Dr. Paul Nassif. My training and expertise in advanced surgical techniques ensure you will receive unparalleled facelift results. I also do not use a one-size-fits-all approach to cosmetic plastic surgery as other plastic surgeons might. I develop customized treatment plans based on your facial structure and unique goals and needs.
Schedule A Facelift Consultation At Our Plastic Surgery Clinic
If you are considering a facelift, allow Carolina Facial Plastics to help you through your transformation journey. We are more than happy to address your concerns and guide you toward the best procedure for your needs and goals. We will provide the facts so you can make the most informed decision about your options. Contact our Charlotte plastic surgery clinic today to schedule your consultation.