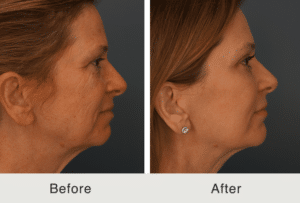 A facelift is an ideal method of tightening lax skin and rejuvenating the face for a more youthful appearance. For many Charlotte, NC patients however, a facelift alone does not address all of the changes they are experiencing with age, such as excess fatty tissue in the neck, volume loss in the cheeks, weak chin, or damaged skin. As a facial plastic surgeon trained by the top plastic surgeons in Beverly Hills, I offer a variety of complementary procedures that can be performed in conjunction with a facelift for optimal results.
Neck and Jowls
It is common for people to develop excess fatty tissue in the jowl and neck area as they age. If a facelift patient is concerned with sagging jowls, I can perform facial liposuction during the facelift procedure to remove the excess fatty tissue and tighten up the jowls, thus giving the face and neck a more youthful appearance.
Volume Loss
Our skin loses collagen as we age, causing some areas of the face to lose volume, sometimes resulting in a hollow or gaunt appearance. There are a couple of options to treat volume loss. First, a facial fat transfer to the face can be performed at the same time as a facelift to add volume back to the face, particularly the cheekbones, and improve definition. Another option for weak cheekbones is a cheek implant. Cheek implants can give you high cheekbones that will highlight the just right areas of the face to give you a youthful glow.
Weak Chin
Chin augmentation is a common procedure performed at the same time as a facelift. Patients with a weak chin can undergo a chin implant procedure to achieve their desired jawline. As a highly trained facial plastic surgeon, I can create an elegant, feminine jawline in a female or a strong, sculpted jawline in a male. During your consultation, we can discuss your chin concerns and decide the best complementary treatment option.
Damaged Skin
Years of sun exposure and environmental elements wreak havoc on our skin. A facelift will not be able to correct the fine lines and sun damage on your face, but through a chemical peel, laser skin resurfacing, and/or facial filler injections, we can minimize the appearance of fine lines and wrinkles, as well as sun spots. I also carry Image Skin Care products and would love to recommend an at home skin care regimen to improve the look of damaged skin so that your skin is not only lifted after your facelift, but glowing and healthy looking as well.
Contact Carolina Facial Plastics for a Facelift Consultation Today
If you are considering a facelift and would like to know if you are a candidate for other complementary procedures as well, contact our plastic surgery clinic for a consultation. During your appointment we will work together to create the treatment plan that will give you the youthful, rejuvenated appearance you've been longing for. Call (704) 842-3644 today!