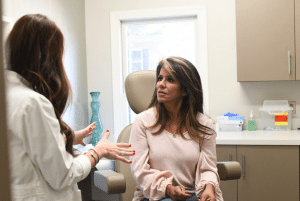 We can't do anything to stop the passage of time – or the changes to our appearance that occur as a result. However, we don't have to simply accept those telltale signs of aging. Instead, we can treat them as they appear. 
At Carolina Facial Plastics in Charlotte, NC, we help patients at every stage of life achieve their aesthetic goals. Heather Bryant, MPAS, PA-C and Courtney Whitley, FNP-C are expertly trained injectors and laser and light device technicians, and Terri Edison, our medical aesthetician, brings her 15 years of experience to every facial and microneedling treatment. I am a double-board certified facial plastic surgeon, and together with my team, we provide expert care and exceptional results in every surgical and non-surgical facial rejuvenation treatment. 
The Aging Process
As we age, both internal changes and external influences affect our appearance. This happens slowly over time, which is why we serve patients in every decade of life as they are ready to address new concerns and aesthetic goals. Internally, bone loss, fat depletion and repositioning, muscle contraction, and skin laxity occur steadily. These changes show externally through symptoms like facial hollowing, stubborn fat deposits, wrinkles, and sagging skin. Understanding why these symptoms appear can help you select the best treatments for them. Fat depletion, for example, may sound like a good change, but once you understand that this happening in your face can cause a hollow appearance, facial fillers may sound like a welcome treatment.
Collagen is another important element in your body that gives you a youthful appearance, and each year we lose 1% of our collagen. Collagen is what firms, volumizes, and smooths our skin. Elastin fibers in the skin fragment, also influencing aging symptoms. These fibers keep skin tight, and as they break, skin begins to sag. 
Beauty By the Decade
Individual beauty goals change over time. At first, aging isn't even an issue. Skin health and appearance are the primary concerns of teens and those in their 20s. Once menopause hits and aging symptoms accelerate, surgical options are ideal for many women. Below are treatments that can help you achieve your ideal look and age at your own pace, no matter the decade of life you're in.
The Teens
Teens are not concerned about looking too old, but acne and acne scarring are issues many teens want to address. Chemical peels can treat pimples and blackheads, and the results can be long lasting if a quality skincare regimen is practiced. We recommend medical-grade skincare products, which you can purchase at our Charlotte medical center or over the phone by calling  (704) 842-3644. We will assess your skin issues and suggest the best products for you.

The 20s
Lip aging symptoms are not likely to be of concern just yet, but you might be ready for treatments that can achieve other beauty ideals. Many in this decade of life choose to have buccal fat pad removal surgery. This procedure removes the excess fat that sits below the cheekbone to help contour your jawline and slim your face. Lip augmentation with fillers is another popular treatment for this time in life, which can give you a youthful and desirable pout. If you do not want to have to maintain follow-up appointments, you can also opt for a surgical lip lift, in which I pull your upper lip slightly upward, giving you a similar look to what fillers can provide, but in one procedure alone.
Sun damage is another concern you can treat in your 20s, as most of the sun damage that appears on your skin happens in the first 18 years of life. An IPL Photofacial can treat brown spots as well as other types of discoloration. Finally, this is often the time in life that men and women choose to get a rhinoplasty. For ultimate comfort and privacy before and after your surgical procedure, I established the Fairview Surgical Suites and Recovery Retreat, where you will always be the only patient and will receive personal care in your private recovery room.
The 30s
Dynamic wrinkles that used to disappear when your face was at rest might now be sticking around all the time, and that's why I offer neuromodulators like Botox Cosmetic and Dysport. These products relax facial muscles that form these lines. Improvements are temporary, but maintaining a regular treatment schedule may allow you to keep your results long-term. Dermal fillers can address other fine lines and wrinkles that are starting to appear in the face and neck, and our team uses the Juvéderm and Restylane families of fillers to treat a wide range of concerns.
Stubborn fat deposits might begin appearing under your chin and along your jawline in your 30s, making facial liposuction a great option for fat reduction, followed by a Profound RF microneedling treatment for mild skin laxity. Our team can perform this combination treatment at our medical center in Charlotte, NC.
The 40s
Jawline contouring becomes more of a concern in the 40s, as the loss of collagen and fragmenting of elastin fibers make way for skin laxity and a loss of definition along the jaw. Continued Profound RF treatments or Cutera Titan treatments can firm your skin, and dermal fillers can give you the contouring you desire and minimize wrinkles. At Carolina Facial Plastics, we are proud to offer countless methods of jawline contouring to give each patient the results they desire.
As skin laxity increases, this might be a good time for a PDO Thread Lift. Thread lift technology has advanced greatly in recent years, and I am proud to offer Mint Threads—the best threads available. This technique can provide a temporary, non-surgical facelift, with less recovery time and at a lower cost than a traditional facelift.
The 50s
As bone loss and fat depletion increase significantly due to the onset of menopause, marionette lines and nasolabial folds deepen, hollowing under the eyes and in the midface become more distinguished, and jowls appear more prominently. Using dermal fillers, Heather and Courtney can correct these changes and give you more youthful contours. For a longer-lasting option, we use the revolutionary Cool Peel laser, which can treat fine lines, wrinkles, and loose skin of the face and neck. In a series of treatment sessions, this device can give you the results of an ablative laser without the long recovery time.
If you are ready to surgically address the concerns you're seeing in your 50s, Carolina Facial Plastics—the top aesthetic destination of the south—is the place to come for unparalleled and natural-looking results. I offer forehead and brow lifts and mini facelifts.
The 60s and Beyond
In your 60s, aging symptoms continue to develop, and surgical options, as well as other stronger treatments, become necessary for achieving ideal results. If your upper eyelids are sagging or your under-eye bags are giving you a tired appearance, a blepharoplasty could be the right treatment for you. Eye rejuvenation may dramatically improve your overall appearance, as eyes are important, expressive features on anyone's face. A facelift combined with a  necklift can tighten and smooth your appearance for 10 years or more, and you can also add an upper or lower blepharoplasty to your treatment session for improved results.
This age is also a great time for more intense chemical peels, performed by our expert medical aesthetician, Terri Edson. The trichloroacetic acid (TCA) peel is one option that can treat even the most damaged skin. This strong peel can even be combined with a surgical procedure like a facelift to provide not only lift but also even, beautiful skin.
Schedule Your Cosmetic Procedure at Our Charlotte Medical Center Today
No matter what decade of life you are in, the team at Carolina Facial Plastics is ready to help you meet your beauty goals. Schedule a consultation today to get started.