A strong, defined, and elongated jawline is attractive on all men and women at all stages of life.  A "weak" or small chin can significantly alter the balance of the face.  Fortunately, the chin can easily augmented a variety of ways to help bring the facial into proportion.  As a facial plastic surgeon in Charlotte, Dr. Kulbersh believes chin augmentation can be a highly rewarding procedure for both the surgeon and patient for people that have a small or weak chin.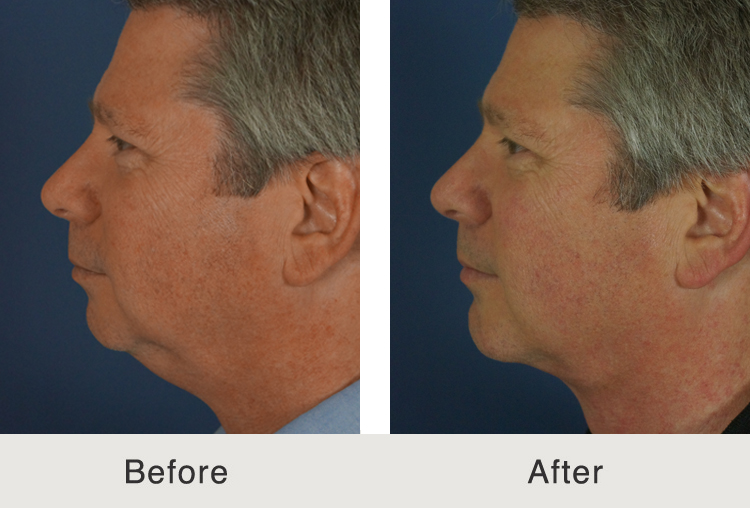 Non-Surgical Chin Augmentation
At Carolina Facial Plastics, Dr. Kulbersh offers a reliable non-surgical option to augment the chin: injectable fillers.
Injectable Chin Fillers
Using injectable fillers, such as Restylane, Perlane, or Juvéderm patients can undergo a quick and immediate procedure to augment the chin, a non-surgical chin augmentation. The fillers can be used to build both height and projection of the chin to create a more balanced appearance. Non-surgical chin implants have the advantage of providing immediate results with little to no downtime.
A low percentage of patients may experience bruising, swelling, redness, or tenderness around the injection site, but these typically go away within a few hours to a few days.  The main disadvantage of using fillers for augmenting the chin is the temporary nature of fillers. Fillers in the chin will last 6-9 months and will need to be repeated to maintain the full results.  This is a great option for patients that do not have time to undergo a small surgical procedure.  There are some patients that choose to have a non-surgical chin augmentation to get a "preview" of a result of a chin implant.
It is important to consult with a trained chin specialist who will listens to their patients' needs and can help them understand exactly what to expect during the treatment, the recovery, and the final results.
Who is a Good Candidate for Chin Augmentation?
Chin augmentation, which is also know as mentoplasty, is a procedure in which the chin is surgically enhanced to improve facial balance. Many patients who choose to undergo augmentation have a small or receded chin as a result of age-related bone loss, misalignment of the teeth or jaw, or congenital deficiency. In order to be a good candidate for augmentation, potential patients must be in good health as well as have realistic expectations about the results of the procedure. Patients who have a weak chin due to abnormal alignment of the teeth or jaw may need to consult with an orthodontist or oral surgeon to determine if oral surgery will be necessary in addition to chin fillers to achieve the best possible outcome.
A chin implant surgery takes about 1 hour and can be completed in the office.  After a few numbing injections, the procedure is very comfortable.  The recovery is quite easy after a chin implant.  There will be stitches underneath the chin that will remain for 1 week.  While the stitches are in place, the patients should not undergo vigorous exercise.  It is common for the lip to feel tight and hard to move for a week or two after surgery.  Pain is rather minimal during the recovery process.  There will be swelling present that will take a few weeks to fully resolve.  I find the chin implants will continue to define themselves for the first 3-6 months after surgery.
Typically speaking, for patients that need significant augmentation of the chin, a chin implant can give a better result.  There is a limitation on how much a chin can be augmented with non-surgical tools.
For patients that have significant asymmetry in the chin, a custom chin implant can be created.  A custom chin implant is created from a 3D model of the patient's face created by a CT or CAT scan.  This type of implant is reserved for patients with unique circumstances.
Learn More About a Chin Augmentation At Carolina Facial Plastics
Dr. Kulbersh is a double board certified and Beverly Hills trained facial plastic surgeon.  During a consulatation, he will listen to a patients a concerns, and create both a non-surgical and surgical treatment plan for a chin augmentation.  He will explain the pros and cons of the surgery and help the patient decided their best course of action. If you are interested in undergoing a chin augmentation please call Carolina Facial Plastics in Charlotte, NC at (704) 842-3644 or fill out the online consultation request form.
Next, read Should Your Correct Your Child's Prominent Ears with an Otoplasty