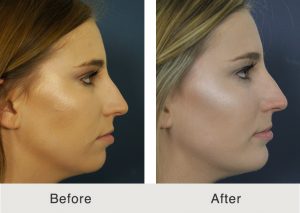 Chin implants are an effective and subtle way to create facial harmony with natural results, which is precisely why this particular surgery is on the rise!
Recent statistics from the American Society of Plastic Surgeons show that almost 20,700 patients have opted for chin implants, a 71% increase in the facial procedure since 2010.
This increase could be a product of more people using video chatting services or video cameras on their phones. People who believe they have a "weak" or "soft" chin are increasingly appreciating this disproportion.
 A chin that fits the face can greatly improve the harmony of the face especially from the profile or three quarter view.

What can I expect during a chin implant procedure?
Chin implants in Charlotte, NC are a relatively simple and fast procedure. Depending on the type of procedure right for you, a patient could be in and out of my office in only a couple hours. The procedure consists of making a small incision underneath the chin where it is hidden.  From the incision the chin implant is place onto the bottom aspect of the jaw.  This immediately creates more prominent and well-defined chin. Most implants are made from synthetics, such as silicone.  I use silicone in over 90% of my patients.  I choose a silicone implant because it has a low rate of infection and can be easily removed. To learn more about chin augmentation, please visit medlineplus.gov.
What can I expect after the surgery?
For the first week after surgery, there will be swelling and possibly bruising and a bandage that will be worn.  After 1 week, the bandage and stitches will be removed in the office.  Over the next 2-3 months, the swelling will subside and the patient can appreciate the look of their new chin.  Most patients often feel better and up to returning to their light every day activities after one week.
Watch Dr. Kulbersh talk about chin implants in Charlotte in this Youtube video.
Is there an alternative to having a chin implant?
If you want improved definition in your jawline but do not want an implant I have quite a few options available to my patients. As an expert injector in Charlotte, I often recommend facial fillers such as Restylane, Perlane and collagen stimulators (Sculptra) to help create a larger chin or improve a recessed chin. The injectables help to define the jawline, which can reduce fine lines and wrinkles along the upper neck and chin. In addition, I can place fillers in your cheeks, temples, or nose to create a better facial definition and improve the overall symmetry of your face.
Contact Dr. Kulbersh Today
Many people feel that their chin does not adequately fit their face or may not be as prominent as they wish it to be. A well-defined chin can help with facial balance, harmony, and symmetry. As a board certified head and neck surgeon specializing in facial plastic surgery, I am confident we can come up with and implement a plan for chin implants. Let your confidence shine with a new chin implant. For more information, please contact Carolina Facial Plastics today by calling (704) 842-3644.