Rhinoplasty is one of the most complex plastic surgeries, and it's never a good idea to choose your procedure and surgeon based on cost alone. Rhinoplasty requires even more expertise and experience than other plastic surgery procedures, so you must work with a specialized surgeon and modern facility with a proven track record of satisfied patients.
Carolina Facial Plastics in Charlotte, NC, is the top aesthetic destination of the South, led by myself—a double-board certified facial plastic surgeon—along with my team of cosmetic experts that includes board-certified physician assistants Heather Bryant and Amanda Piligian and board-certified nurse practitioner Courtney Whitley. I am Beverly Hills-trained and focus 100% on treatments for the face and neck. I've published several articles in medical journals about rhinoplasty, so you can be sure you'll receive the best rhinoplasty care possible at our Charlotte plastic surgery clinic.
Revision Rhinoplasties Happen: Here's Why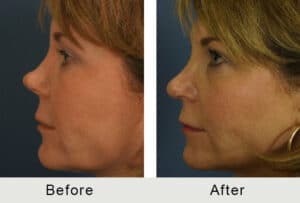 Revising a rhinoplasty is surprisingly common. Between 10-15% of patients who undergo nose jobs request a second procedure in the future. Revision rhinoplasties are common because an inexperienced plastic surgeon performed the original surgery and either made mistakes or was unable to meet their patient's expectations. Common reasons for undergoing a revision rhinoplasty are:
Results look unnatural and don't match other facial features

Changes did not go far enough and are underwhelming

Asymmetries developed because of surgery

New bumps and deviations appeared during the healing process

Nasal obstruction

Cartilage collapse

Excessive scarring is limiting function
Many of these issues arise from a lack of clear communication between a surgeon and a patient. Because surgeons perform rhinoplasties primarily for cosmetic reasons, successful outcomes are somewhat subjective, so thorough consultations are vital to the process. To avoid additional procedures, including more costs, recovery, and potential complications, get it right the first time by choosing the best plastic surgeon for the job. 
Complex Anatomy Affects Form and Function
While patients typically choose nose jobs to address cosmetic concerns, preserving the nose's function is vital to the process. Rhinoplasty needs to improve the nose's appearance while maintaining or even improving its function. A surgeon needs to determine if breathing passageways are open and functional before finishing the procedure. The bone and cartilage are also fragile and necessary for supporting the nose's structure, so surgeons must operate gently and precisely as they alter your nose's framework. Finally, the skin must fit perfectly over the bone and cartilage, sutured together for minimal scarring. 
When functionality is the reason for seeking nose surgery, septoplasty is what you need. This type of surgery, also known as nasal obstruction surgery, is solely focused on correcting structural deviations and deformities inside the nose to improve breathing. Learn more about nasal obstruction surgery here. 
Aligning Your Expectations 
When you come to my practice in Charlotte, North Carolina, the first step is always a thorough consultation for nose surgery. I use one of the most exciting developments in cosmetic facial plastic surgery for all of my rhinoplasty patients: morphing technology. This allows you to see a preview of your new nose through computer-generated "before and after" photos. This simulation gives you a visual of what you can expect, allowing you and I to discuss your procedure with a visual representation of your potential results, ensuring much clearer communication between us and leading to a successful outcome for you.
The Customized Approach for Best Results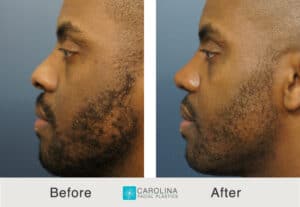 Something I always remind patients is that their facial features and qualities are different from anyone else. This is why I never approach any nose surgery with the same aesthetic goals. The nose is the central feature of the face, and many believe it is the most important. It can create a balance between your other facial features and highlight your best qualities. In the same way, a nose that doesn't suit your face can put everything out of balance and draw undue attention to itself. 
Some people want their nose to match a celebrity's or someone else they're seen. While those idols' noses may look great on their faces, that doesn't mean it would suit yours. The perfect nose is always the ideal nose for you, not anyone else. I will customize your results to your face and your specific features, including if you'd like to appear more feminine or masculine according to your ethnicity to preserve your natural beauty.
Get Your Rhinoplasty with the Best Plastic Surgeon in Charlotte, NC
A procedure this important should never be rushed into—especially with the wrong surgeon. I performed all my facial surgeries at our Fairview Surgical Suites, a private, beautiful retreat where your surgery is the only surgery being performed at that time. After your procedure, you can relax and recover at our Fairview Recovery Retreat. This luxurious space feels more like a spa than a recovery room. You can rest in your memory foam bed in your private room with an attached private bath. We will cater all your meals and even snacks, as well as provide 24/7 care until you're ready to go home.
Contact Carolina Facial Plastics in Charlotte today to get your rhinoplasty right the first time.