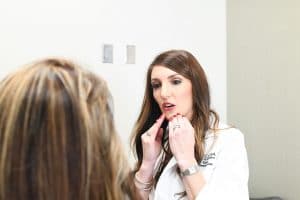 The chin is one of the most defining features of the face. It not only adds definition to the jawline, but it balances facial symmetry. In fact, balance is commonly viewed as one of the fundamental components of beauty, meaning a chin augmentation can dramatically enhance your appearance. 
At Carolina Facial Plastics in Charlotte, we focus 100% on cosmetic treatments for the face. It is this single focus that allows us to produce exceptional results in facial enhancements, whether through surgical or nonsurgical techniques. I am a Beverly Hills-trained and double-board certified facial plastic surgeon, and along with my expert injectors, Heather Bryant PA-C and Courtney Whitley NP-C, we apply a wealth of understanding of both anatomy and aesthetics to every procedure we perform, helping you achieve beautiful and natural-looking results.
What is Chin Augmentation? 
Chin augmentation is one of the most transformative cosmetic procedures performed today at our plastic surgery clinic. It alters the shape of the chin, corrects a recessed or "weak" chin, strengthens and enhances the jawline, and improves the facial profile. When performed correctly, it can bring balance and harmony among the facial features and provide an attractive and youthful appearance.
Traditionally, chin augmentation was solely performed surgically using implants. But with the advancement of cosmetic techniques along with the rise of dermal fillers, nonsurgical options are now also widely available. Surgery may be necessary for those with severely recessed chins or patients who want long-lasting improvement. In other cases, a series of injections can transform the facial profile with results that can last for many months or even longer. The decision between surgical and nonsurgical chin augmentation is based on the patient's goals, availability for downtime, and general health. Both can produce excellent results for patients, and since we offer both at our practice, we are able to work with you to determine the best procedure to achieve your unique goals.
How Chin Augmentation Can Transform Your Face
Because the chin is a bony structure, it gives the face definition and angulation along the jaw and neckline. Chin augmentation can build a more contoured facial profile with a strong, defined lower face, which is universally attractive to both women and men as it exudes youth, health, and confidence. In addition to a more defined jawline, chin augmentation offers the following benefits:
Creates a more balanced facial profile

Achieves facial symmetry and proportion

Extends or enlarges a weak, small, or recessed chin

Reduces the appearance of a double chin

Elongates the neck
Nonsurgical Chin Augmentation
Nonsurgical chin augmentation using dermal fillers is an option for those who want to try out the look of a chin augmentation without committing to surgery. It is a minimally invasive alternative to chin implants. It involves injecting specially selected dermal fillers like Voluma, Restylane, or Juvéderm into specific areas of the chin to increase its length, width, or projection. When injected in combination with the cheeks and jawline, it can create the coveted heart-shaped face that women want. For men, the process can produce the square-shaped jawline that is associated with masculinity and attractiveness. 
Heather and Courtney are experts in injectable fillers and can enhance your chin without surgery. They use tiny needles or micro-cannulas to deliver precise volumes of dermal filler in the targeted areas of the chin and jawline. Filler can be placed on the underside of the chin to elongate it, or it can be injected into the anterior part of the chin to help support the jowls and prevent a frowning appearance. To learn more about nonsurgical chin augmentation, please visit ncbi.nlm.nih.gov.
Surgical Augmentation 
With my well-trained eye for facial balance and symmetry, I can provide you with exceptional results with several surgical procedures for chin augmentation. One of these options is an implant. Implants are able to maintain their shape, thereby providing predictable and permanent results. I offer standard shapes, but I can also produce custom chin implants using a CT scan to visualize the bones of the face. This option is great for patients who have significant asymmetries of their face or have an extremely weak chin, and not all surgeons are able to provide this option.
A mandibular implant may not only sculpt your jawline, but it can augment your chin too. This device is different from a chin implant, which covers the chin area only. A mandibular implant spans the jawline from ear to ear. At my plastic surgery clinic in Charlotte, I offer two options for jaw implants. The first is a mandibular angle implant which comes in a variety of standard shapes and sizes, or I can use a custom mandibular implant.
Fat grafting or facial fat transfer is another option for sculpting a more prominent chin. The procedure involves removing excess fat from an area of the body and then injecting it around the chin to enhance its shape and create a more defined jawline. This procedure is ideal for those who do not wish to undergo more invasive surgical procedures but would like permanent results. Because it relies on your own fat, it produces a very natural appearance as it permits an almost seamless rejuvenation of the face, all performed without any incisions.
I perform all surgical procedures at the luxurious Fairview Surgical Suites and Recovery Retreat. You will always be the only patient at Fairview, so you can have complete privacy as you undergo your chin augmentation procedure and while you recover. Our team will be available to you and will provide you with meals and any other assistance you may need while you heal.
Treatments Often Combined with A Chin Augmentation At Our Plastic Surgery Clinic
One way to achieve more comprehensive results is by combining treatments. Facial liposuction can be used to eliminate excess fat from under your chin, further sculpting your jawline. Since the shape of the nose is affected by the shape of the chin, some patients choose to undergo a rhinoplasty or a "nose job" with their chin augmentation. By altering the nose's shape and size (surgically or nonsurgically), you can make the nose fit more harmoniously with the rest of the face, balance out your other features, and achieve facial symmetry. 
Schedule A Consultation Today
At Carolina Facial Plastics, it is our goal to improve the balance and proportion of the face. By achieving this, we can allow you to look like the best version of yourself while still maintaining natural results. If you'd like to know more about our chin augmentation procedures, contact our Charlotte, NC office.