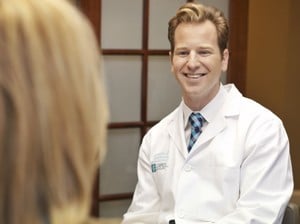 Very few areas of your body convey youth and vitality like a lovely, long, smooth neck. Unfortunately, the skin on your neck—like the skin on your hands—is extremely thin. And just as the skin on your hands is one of the first places that show your age, your neck skin often displays the ravages of time earlier than facial skin.
If you're considering a facelift to resolve a sagging, aging face, you almost undoubtedly will benefit from a neck lift, too. In fact, a facelift without a neck lift may distract from your facial rejuvenation and direct the viewer's attention to your crepey or saggy neck. Getting a facelift alone could be considered the equivalent of going to the gym but only working out your left arm, not your right: The end result looks unbalanced and accentuates the difference between the two.
At Carolina Facial Plastics in Charlotte, North Carolina, I almost always recommend combining a facelift, aka a rhytidectomy, with a neck lift. As a facial plastic surgeon who focuses 100% on treatments for the face and neck, I can perform a neck lift and facelift together to give you a balanced, complete transformation.
Facial Balance is Key to Facelift Success
One of the reasons our patients are so happy with their facelift results is that I not only lift your skin and underlying muscles, but I make sure to restore your face's youthful contours and proportions. As you age, the sharp, youthful "V" shape of your face becomes square, heavier, and lower. To learn more about how a facelift helps to achieve facial balance, visit ncbi.nlm.nih.gov.
When performing a facelift at our plastic surgery clinic, I reposition tissue to restore the position of your cheeks and lower face to their more youthful positions, as determined by your bone structure. Too much tissue and skin on your lower face is considered extreme aging. That's why jowls are associated with middle age to older age; you don't see jowls on a young face.
You also don't see sagging, loose, or crepey skin on a young neck. When I perform a facelift, my goal is to restore your proportions from forehead to neck. During the facelift part of your procedure, I will:
Lift your facial skin and underlying muscle both upward and outward

Tighten and reposition the underlying SMAS and facial muscles

Secure your face's more youthful position for long-lasting results 

Remove excess fat in your lower face that causes jowling and heaviness

Trim away redundant (excess) skin
When moving to your neck, I will:
Tighten and secure the underlying platysma muscle

Remove excess fat from the chin

Lift the neck upward

Tighten skin to match the contours of your jawbone

Secure your neck lift to ensure long-lasting results

Trim away redundant skin
By tightening the underlying neck muscles, your neck can be restored to its more youthful contours. An angulated jawline makes you look both younger and more confident.
To achieve the most dazzling results, you may opt for a laser treatment to accelerate healing and improve face and neck skin tightening or restore the thickness and youthfulness of your cheek area with fat grafts.
Combining Procedures At Our Plastic Surgery Clinic Saves You Time and Money
When you perform both your facelift and your neck lift at the same time at our state-of-the-art Fairview Surgical Suites in Charlotte, you also shorten your recovery time. While you may enjoy your luxurious stay at our Fairview Recovery Suites, undergoing two completely different recovery sessions separated by months or years may be difficult to fit into your schedule. You also get to unveil much more dramatic results by the end of your recovery when you've rejuvenated both your face and your neck.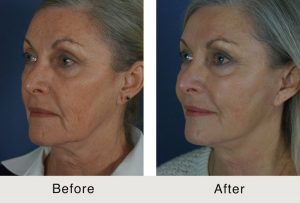 From a more practical point of view, doubling up on surgical procedures saves you time and reduces your risk for complications. You only have to undergo general anesthesia once, not twice. And we're happy to give you a discount when performing more than once procedure during your surgery because it saves us time, money, and resources, too.
Early Surgery Is Better Than Late
Of course, the earlier in your aging process that you start turning back the hands of time, the more graceful you'll appear as the years advance. If your neck is still smooth and tight, but you've noticed jowls starting to form along the jawline, I may recommend a mini lift instead of a full facelift during your consultation. A mini lift addresses the lower part of the face only. It can resolve jowling, excess fat under the chin, and skin laxity along the jawbone. Your cheek position remains the same, as does the skin on the neck. A mini lift is only appropriate when you're in the early stages of aging.
Schedule Your Face and Neck Lift Consultation in Charlotte Today
Rejuvenate your entire appearance by lifting your face and neck together at Carolina Facial Plastics. Schedule your in-depth consultation at our plastic surgery clinic today.