Several factors contribute to the lifespan of your neuromodulators and dermal fillers. Your metabolism, as well as the type of injectable, amount of product, and the specific treatment areas, may all influence the rate at which your injectables wear off. While everyone will process proteins differently, and you can't control your body's rate of absorbing them, there are steps you can take to extend your results and increase your time between touch-up visits.
At Carolina Facial Plastics, we can help you achieve beautiful, natural, and consistent results to enhance your unique attractiveness. Myself and my team of expert injectors, Heather Bryant PA-C, Amanda Piligian, PA-C, and Courtney Whitley FNP-C, focus 100% on cosmetic treatments for the face. It is this single focus that allows us to produce exceptional results in facial enhancements, whether through surgical or non-surgical procedures at our medical spa. Below, we share tips on how you can prolong the effects of your injectable treatments.
Healthy Habits = Longer Results
Letting neuromodulators such as Botox® Cosmetic and Dysport® and dermal fillers such as Juvéderm® do their job does not mean slacking off on practicing healthy lifestyle habits. The general rule of keeping hydrated and eating right, for instance, is a tried and tested formula for keeping the skin in top shape.
When you hydrate regularly, you not only keep your skin supple and keep the wrinkles at bay, but you can also prolong your injectable results because dehydration stresses the skin. Hydrating the skin also means moisturizing it with topical treatments. Ingredients such as hyaluronic acid (which most fillers such as Juvéderm, Restylane®, and Voluma® consist of) reduce inflammation, helping to slow down the process by which your body metabolizes your injectables.
You can also eat your way to healthy, glowing skin that helps maximize your filler results. Load up on healthy fats, lean protein, fiber, and antioxidant-rich foods such as avocados, berries, and nuts. Avoid processed foods and sugar. These foods will only increase inflammation in your body, affecting your overall skin health.
The Dos and Don'ts of Exercise
I recommend that patients refrain from intense workouts for one day following an injectable treatment to allow the neuromodulators and fillers to settle. But after that, resume your normal exercise regimen. Focusing on how an increased metabolism will only process injectables faster and worrying about it shouldn't be an excuse to give up the healthy habit. There is no scientific evidence suggesting that regular and even rigorous exercise affects fillers' dissolution.
Give Your Skin TLC
The effects of injectables (similar to other cosmetic treatments) may last longer if you take proper care of your skin. Sun exposure can reverse the benefits of your treatments and promote aging. Protect your skin by regularly applying broad-spectrum sunscreen, avoiding UV exposure during peak hours, and wearing wide-brimmed hats and other UV-protecting accessories.
Practice good skin care by using high-quality cleansers, moisturizers, and serums. Look for hyaluronic acid, retinol, antioxidants like Vitamin C, and other moisturizing and nourishing ingredients that keep skin hydrated while stimulating collagen production. In essence, a stronger and healthier skin structure will help better preserve your injectable results.
Choose Your Filler Wisely
Each injectable has its own set of properties that can achieve different results. Depending on the injectable used, your body will reabsorb them at different rates. Botox Cosmetic and Dysport can last about 3-4 months while HA fillers such as Juvéderm and Restylane can last 6-18 months. Sculptra®, on the other hand, is a collagen-stimulator that doctors and other trained providers use to produce results that can last for up to 2 years. Improvements develop over time and typically take about six months to become fully evident.
Location matters as well. Injectables wear off more quickly in facial areas that are more active. Botox may not last as long on areas with stronger muscles (e.g., forehead and eye area) and will last longer on less mobile areas with thinner muscles. For fillers, the most active facial areas are the mouth and lips.
Since every patient has different skin concerns and aesthetic goals, the best way to learn which injectable is best for you is to consult with a specialist who only focuses on the face and that has extensive experience with the range of injectables available. And with a trained aesthetic eye, they can help you achieve beautiful and natural-looking results. To learn more about injectables fillers, visit the American Board of Cosmetic Surgery (ABCS).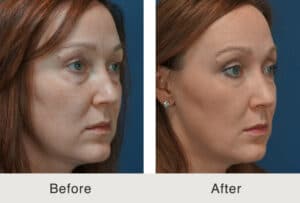 Get Touch-ups
Similar to how you have regular salon appointments to maintain your hair color, the best way to see long-lasting injectable results is through maintenance. Getting regular touch-ups helps ensure results look consistent instead of a "fluctuating" appearance. It is also much better to maintain results rather than let them fade away and go back to square one. With a regular treatment schedule, you can prolong positive results, and you will likely require less filler with each treatment.
Pick the Right Injector
The best way to truly prolong results and to lengthen the time between your appointments is to select a board-certified and skilled injector. That guarantees the safety of your facial injections as well. Performing filler injections involves a balance of science (facial anatomy) and art. This means the injector must be able to:
Choose the right injectable for your needs
Select the right dosage and dilution
Determine the precise placement of injections to create a natural look
Have the ability to identify and treat complications that may arise
Ultimately, experienced injectors are knowledgeable on how to achieve the best and most long-lasting results.
Schedule An Injectable Treatment at Our Charlotte Medical Spa Today
Injectables offer a safe, minimally invasive, and subtle way to enhance your natural beauty, just as long as your injector has the expertise and experience to perform them properly. At Carolina Facial Plastics, we are dedicated to ensuring our patients receive the best possible results with the highest level of care delivered in a warm and friendly environment. To schedule a consultation, contact our Charlotte, NC medical spa.