If you looked at a typical bathroom counter of a man and woman, you would see differences between the two areas.  Men typically have a toothbrush, razor, cologne, and possibly some eye care products.  Women may have a combination of hair dryers, straighteners, blush, foundation,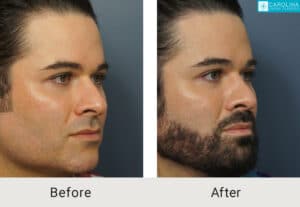 eyeliner, facial creams, facial masks, etc.  It's no secret that women have a few more products on the market as opposed to men. In many places, it is more socially acceptable for women to take small steps to start fighting the aging process. Small steps can be considered dying their hair, makeup techniques, and using medical-grade skin care.
However, at the risk of being viewed as unmanly, a man is less likely to start taking the steps to help him age gracefully or enhance his natural good looks.  He could borrow his wife's moisturizer, but what happens if his buddies find out?With 'baby-boomer' men perhaps being the first group of middle-aged males to ever consider different types of plastic surgery, there is one major difference in providing cosmetic procedures for men rather than women—they don't want to look like they've had anything done.
The Best Plastic Surgeries For Men
As an experienced facial plastic surgeon in Charlotte, I understand the importance of customizing all facial plastic surgery procedures for men. One of the most important things that I try to do when providing surgeries for males is to make sure that their facial features are balanced, and that no one can figure out why they look so good for their age.
Because striving for a natural result is so important, there are several different surgeries for men that can help turn back the aging process without raising an excessive amount of suspicion. At Carolina Facial Plastics in Charlotte, I often perform the following cosmetic procedures for men.
Botox
If you're looking for a procedure that is quick, painless, and offers results extremely fast, Botox might be right for you. Botox can help reduce the fine lines, wrinkles, and crow's feet that appear on our faces with age. When using Botox on males, I make sure to leave movement in the face.  I can use Botox to soften the wrinkles of the forehead and between the eyes, but in a way where the patient is still able to move his eyebrows.  I think this creates the best and most natural result for my male patients having Botox in Charlotte.  After just one treatment, you'll notice a refreshed looking appearance.
Blepharoplasty
Blepharoplasty, also known as an eyelift, can help rid a man of the excess skin around his upper eyelids or the puffy, dark lower eyelid bags that occur as we age. Blepharoplasty is a minimally invasive procedure that takes just over an hour to perform, and the results of the surgery can create eyes that give off a more awake and more alert appearance.  Blepharoplasty technique is different when compared to women.  In males, I keep the incisions lower on the eye to create a low eyelid crease.  A high eyelid crease can feminize an eye and create an unnatural result.
Facial Fillers
Facial fillers are a great choice for men who want to put volume back into their face that has been slowly lost over time. Fillers are fantastic for treating smile lines, under eye circles, and can even help reshape the jawline, create a stronger chin or diminish under eye circles. Other great procedures for men include facelifts, neck lifts, and chin augmentation.
Speak With Dr. Kulbersh Today
As a facial plastic surgeon in Charlotte, I truly believe that there is a correct plastic surgery procedure for everyone, and I am more than happy to address the needs of my patient during an initial consultation. To better understand which type of cosmetic facial procedure may be best for you, I encourage you to contact Carolina Facial Plastics today to schedule an appointment with me by calling (704) 842-3644.  I am a board certified head and neck surgeon in Charlotte who has an extensive knowledge in the facial anatomy and strive to achieve a balanced and natural look for my patients. If you would like to learn more about the procedures offered at my practice, please contact my office today.