So much about life is timing.  The timing has to be right to fall in love, to have a child, or to take a new job.  As life gets busier and increasingly complicated, it becomes more difficult to create time to take care of ourselves.  One step that many people consider is to undergo as they age is a facelift.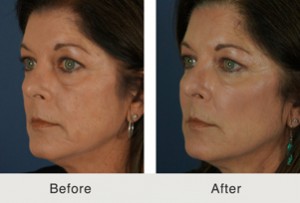 A facelift is a surgical procedure to lift and possibly fill the sagging tissues of the face and neck.  It restores definition to the jaw line, neck, and cheeks.  Patients consistently report that a facelift takes at least 10 years off of their appearance, and my patients are exceedingly happy that they decided to undergo the procedure.
There are many considerations that patients must decide before scheduling facial rejuvenation surgery.   One major decision is the timing of surgery.  The timing of surgery is dependant on both the quality of the patient and their surrounding lifestyle circumstances.    The purpose of this blog is to help patient's understand when is a good time to undergo a facelift.
Men and women begin to show signs of loose skin around the jaw line and neck in their 40's and it progresses as they age.  At anytime during this process, a patient may be a candidate for a facelift if facial definition is blunted or loose and wrinkly skin becomes visible.
Many patients ask if it is better to have a facelift before the sagging gets "bad" or if it is easier to have the surgery earlier.  With confidence, I believe it is better to have the facelift at the earlier stages of aging.  Here are my reasons why it is best to have a facelift earlier as opposed to later in the aging process:
1)     The less advanced the sagging, the easier it is for the surgeon to get great results
2)     A very loose neck requires more aggressive surgery which can increase operating time, recovery time, and cost for the patient
3)     The younger the patient typically means the healthier the patient
4)     A patient must be very healthy with only minor medical problems to undergo elective aesthetic surgery
5)     The older we get, the higher chance a person may not be healthy enough to undergo a facelift
6)     Generally speaking, the younger we are, the faster we recover
After a facelift, there will be recovery time.  This generally occurs over 1-2 weeks depending on each surgery.  Patients need to pick a time in their lives where they can slow down for 1-2 weeks.  For patients with many responsibilities, they will plan when to undergo the procedure as their busy schedule permits.  Additionally, patients will need someone to help them for the first few days after surgery.
There is not an ideal age for someone to undergo a facelift because every situation is unique.   I have perform