No amount of healthy living, eating, and exercising can stop the inevitable: over time, your face will age. The fact that something's inevitable doesn't mean you have to live with it.
I opened Carolina Facial Plastics in Charlotte, NC because I love helping women and men push back Father Time with both simple nonsurgical and complex surgical procedures. In 2019 and 2020, more than ever, you can address and reverse the signs of aging, even before they happen.
Prejuvenation Skincare
It's never too soon to take control of your complexion and skin quality to give yourself the best chance of spectacular aging. In sunny Charlotte, the first order of business is finding a high-quality skincare system and at least an SPF 30 sunscreen that you can apply and reapply daily. Sun damage from UVA & UVB rays causes most signs of aging. We carry some of the best preventative skincare treatments and sunscreens from: 
SkinCeuticals 
Globiotics MD
Neocutis
Even as early as your teenage years, you may want to start enhancing the quality of your skin and encouraging it to build healthy new cells. The following therapies are essential at any age:
Probiotic Youthboost

— Fights free radicals for a healthy glow and reduction in photodamage.

Regular chemical peels

— Removes dead skin and discoloration, triggers collagen remodeling.

Regular facials

— A lighter treatment than a chemical peel, facials also create a bright glow and clear clogged pores.
And as long as you are over 18 years old, you can knock out wrinkles on your forehead or at the corners of your eyes with a neuromodulator. If you know you have a genetic tendency toward those kinds of wrinkles, you can even use the following neuromodulators as a preventive therapy:
Early signs of "wisdom
"
If you've already begun to notice signs of facial aging, it's not too late to turn back the clock. In addition to adopting many of the habits of prejuvenation, you can also repair the damage that's already been done. At this point, you probably want to add a stronger rejuvenating therapy to your regular chemical peels. Try:
Microneedling with the Rejuvapen™— Tiny surgical needles initiate a collagen-remodeling process in your skin that makes it firmer, healthier, and evenly toned. 
Vampire® Facials and Facelifts with PRP— Your microneedling treatment is enhanced by a platelet-rich serum created from your own blood. The PRP can be injected into areas of volume loss, such as cheeks and wrinkles, too. 
Laser Rejuvenation
Laser therapy works both on the skin's surface and deepest layer. The heat from the laser initiates a collagen remodeling process that makes your skin tighter and stronger. The energy can also resurface your skin, removing brown spots, fine lines, wrinkles, and scars. 
IPL Therapy
We offer the following laser and intense pulsed light (IPL) therapies:
Pearl lasers by Cutera
Genesis laser
Titan laser
Limelight IPL
Volume Loss Treatments
In addition to improving the quality of your skin, you may also need to add back volume in areas where you've lost supportive fat, collagen, and hyaluronic acid (HA). For an instant correction of volume loss, I recommend dermal fillers made of HA, such as Restylane and Juvederm.
Dermal Fillers
These fillers come in a variety of consistencies to fill in everything from fine lines, such as perioral wrinkles, to deep folds, such as marionette lines. I also use HA fillers to build up the lost volume in the midface without surgery. One of the fastest ways to brighten your entire face is simply by adding a little HA filler to your lips to increase their volume and softness.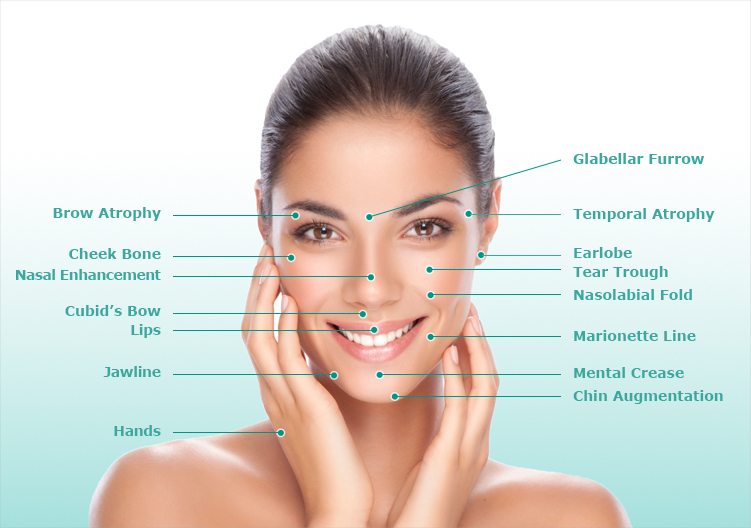 Collagen Stimulant
Another type of dermal filler — the collagen stimulator — works more gradually, but lasts longer. I often layer the collagen-stimulating fillers Sculptra or Radiesse with HA fillers for the most natural look.
Advanced "wisdom"
If you're finding it more and more difficult to find the person you used to see when you looked in the mirror, it may be time to turn to surgical corrections for the lift and glow you desire. As a double-board certified facial plastic surgeon, I work with you to decide which procedures will benefit you most as indicated in this article from ncbi.nih.gov. Whenever possible, I recommend the fewest procedures and the least invasive approach. 
Facial Plastic Surgery
Procedures you might consider include:
Lasers and microneedling are also great treatments to add to a facelift or mini-lift. As you heal from your surgery, the collagen-remodeling process makes your skin extra tight, firm, and youthful.
Facial Plastic Surgery & Skincare Experts in Charlotte, NC
If you're ready to look in the mirror and see the glow you once had, take control of your facial aging by choosing the right preventive therapies and remedies for you. Start with a consultation at Carolina Facial Plastics. Just call us or book an appointment online. My staff and I look forward to meeting you.