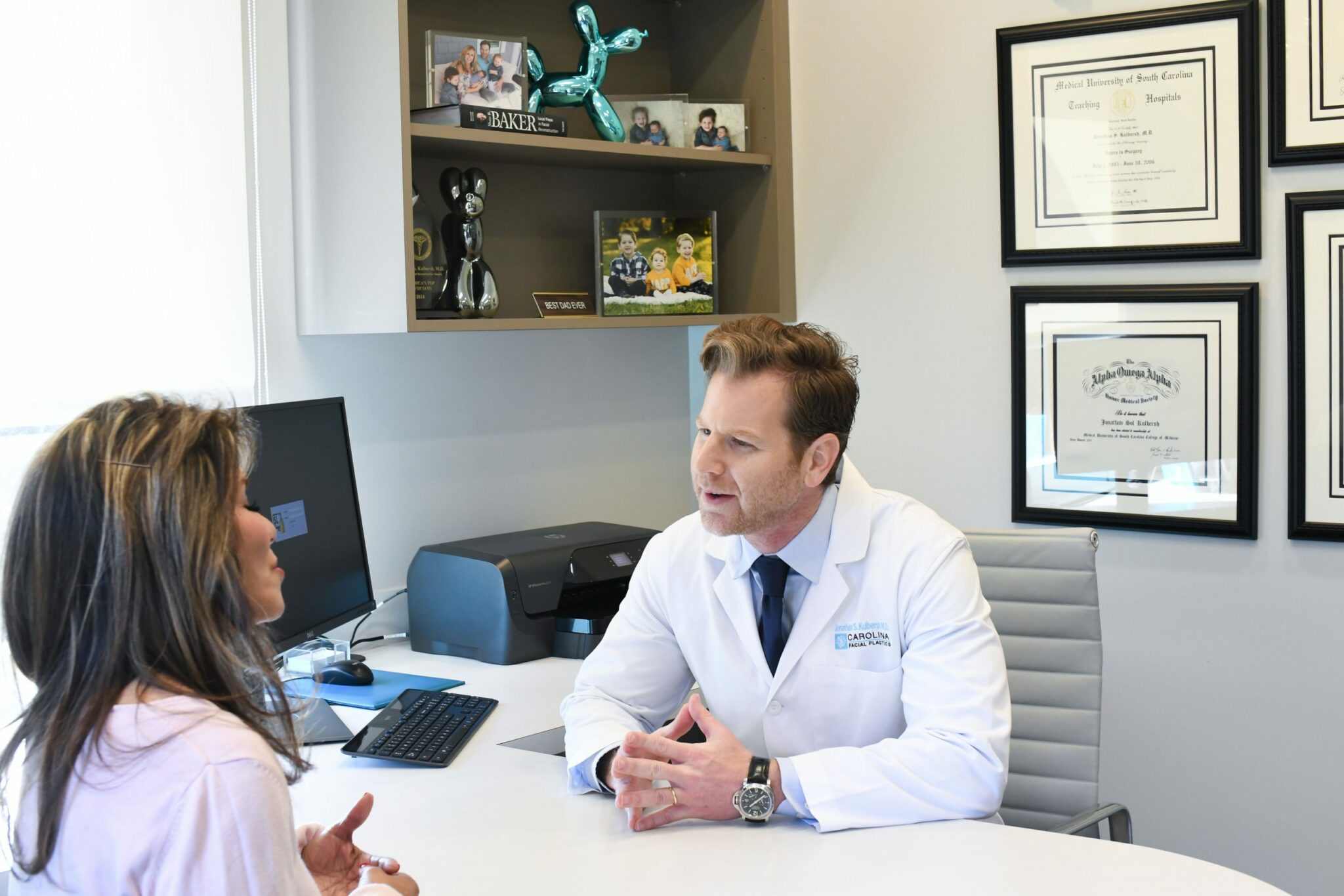 You love your friends and family, just as they are. So it may come as a surprise to learn that someone you love wants to change their appearance by undergoing facial plastic surgery. That nose that you view as distinctive and familiar, the wisdom that's accumulated in the form of sags and wrinkles, or even their very facial structure might not jive with your loved one's inner image.
They want to improve themselves through facial plastic surgery. If they're a teen or young person, you may need to have important discussions about why they want to change, but if they're an adult, even though you might be taken aback, you want to support them so that they can get the best care possible.  You ultimately want your loved one to be happy and have a fantastic outcome.
So, how do you start?
Help minors make key decisions
If your teenager is considering a rhinoplasty or another form of facial plastic surgery, as a parent you should have a discussion on their motivation. You want to ensure they are emotionally ready to undergo a facial plastic surgery and that they are undergoing the procedure for the correct reasons. You might also want to have a discussion about the pressures of social media and help them manage their feelings. To learn more about the pressures of social media and cosmetic procedures, visit ncbi.nlm.nih.gov.
Many young patients experience increased self-esteem when they fix a feature that troubles them. They may also have endured peer bullying owing to the feature they dislike. Procedures that teens and young people often gravitate toward include:
Otoplasty

— correcting overly large or protruding ears

Rhinoplasty

— correcting shape and alignment of a nose
If you believe that your child or teen would benefit from and is mentally ready for facial plastic surgery, the next step is to find an expert surgical team. Our team at Carolina Facial Plastics is highly-trained and passionate about helping our patients feel like the best versions of themselves. As a double-board certified facial plastic surgeon, my goal is to establish long-term relationships with my patients so I can help them reach their aesthetic goals now and in the future. I have many years' experience working with teens to help them understand what kinds of changes they can expect and giving them results that boost their confidence in Charlotte, NC.
Support adults without judgment
Although you might appreciate your adult loved one's nose or facial features, they are considering changing the proportions of their face to create an improved balance and help them feel better about themselves. Don't try to change their minds or convince them that they're making a mistake. Creating friction during this time of change could add more stress to their pre and postoperative periods.
If you haven't seen your loved one in awhile and they've already undergone facial plastic surgery, avoid negative comments or those that call attention to the fact that they've had work done. Feel free to praise their newfound beauty, youth, and attractiveness, but try not to snoop to find out exactly which procedures they've had (unless you're looking for the same procedures and want to learn about their expert surgeon).
Help them prepare for surgery
If your loved one is in the preoperative stage of facial plastic surgery, they'll need help organizing their lives for their day of surgery and post-op recovery. Even if someone's just getting a mini face lift or a brow lift, they could use a ride home after the procedure. Although many facial plastic surgery procedures are performed with "twilight" anesthesia, they'll be drowsy afterward and won't be able to drive home.
When your loved one is undergoing a procedure that has a lengthy recovery period, such as a face lift, they may need help taking care of themselves for the first few days or even the first week. Offer to cook their meals and clean their home so they can devote themselves to recovering fully.
Our Charlotte office also lets facial plastic surgery patients know what kinds of foods and substances to avoid before their surgery. Remind them to eliminate aspirin and other blood-thinning herbs and supplements — such as ginkgo biloba, ginger, and garlic — for the two weeks before their surgery. If they've had to quit smoking before their surgery, they might need extra support to kick their habit.
If your loved one has entrusted their procedure with our Carolina Facial Plastics team, then they can enjoy the comfort and safety of our Fairview Surgical Suites, a single operating room facility that is certified by the American Association for Accreditation of Ambulatory Surgery Facilities (AAAASF). With just one procedure performed at a time, your loved one can trust they are receiving our complete focus in a highly-sanitary environment.
Help them recover from surgery
Make sure your loved one received all of their post-operative care instructions long before the day of their surgery. They should understand how long recovery takes and arrange to miss work or school if necessary. You can check our website by procedure to find out how long each surgery requires for recovery.
Your loved one will need one-on-one, focussed care the first 24 hours after their procedure, but you won't have to take this first shift of care. Our team at Carolina Facial Plastics is dedicated to ensuring a calm, restful recovery for your loved one, which is why we maintain the Fairview Recovery Retreat for all our patients. Here, patients will have an on-call nurse, cooked meals and gourmet snacks, private bath, a memory foam bed, and more comforts as they recover. You will also be welcome to join them if they want some company during this time.
You might need to help your loved one manage their expectations. Although I talk in-depth with each patient during their consultation, so that they know exactly what improvements they can expect, it's common to feel a little down after a procedure. The surgery itself may leave the face swollen and bruised for a time, which may make them feel self-conscious (and also uncomfortable).
Be sure they have any approved pain medication they need and have access to wrapped ice to control bruising and swelling the first hours after surgery. Some plastic surgery procedures require a long time before you see the final results. A rhinoplasty, for instance, could take up to a year to fully heal. You may have to remind them that it's normal to look worse before looking better.
You might also be surprised to find that your loved one mourns the face they had before the surgery. Even if they wanted to shorten their nose or flatten their ears, seeing their new face can be jarring. Like you, they grew used to the way they looked and may take some time to adjust to their new appearance. Assure them that they look great for their stage of healing, and remind them that you love them.
Learn More About Facial Plastic Surgery in Charlotte, North Carolina
If your loved one had their plastic surgery performed at Carolina Facial Plastics in Charlotte, NC, feel free to reach out to us with questions about how you can help them recover and adjust to their beautiful new normal. Call us at (704) 842-3644 or contact us online to set up a consultation. It may be the first step toward your loved one's long-dreamed of new look.