Dr. Kulbersh is passionate about healthy skin. In addition to being a facial plastic surgeon, he also designed his own medical skin care line, CFP skin care, because he believes "healthy skin is beautiful skin."
Not only is Dr. Kulbersh an advocate for healthy skin, but his wife Sara is always refining her skincare game. Luckily, both Dr. Kulbersh and Sara love to share what they've learned about skin and hair care with their friends, family, and extended family (i.e., Carolina Facial Plastics patients). So, Sara decided to share some of their top skincare and haircare tips where anyone who was interested in youthful looking skin and healthy hair could find them.
Dr. Kulbersh and Sara's morning skincare routine:
STEP 1: Cleanse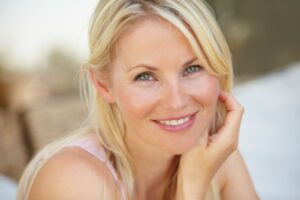 Even the most expensive, exclusive skincare system in the world won't work if you start with skin that's clogged up with dead skin, oil, and dirt. Your skin won't be able to absorb the products or benefit from their ingredients.
To make sure our skin is clean, fresh, and ready for nutrients, My husband and I start each day by gently cleansing and exfoliating with the Clarisonic electric brush. The Clarisonic whisks away debris and stimulates our skin to increase blood flow, so it can better absorb skincare products.
We each use a different cleanser with the Clarisonic.
Jonathan chooses: CFP Purifying Antioxidant Foaming Cleanser
The CFP Purifying Antioxidant Foaming Cleanser features a special antioxidant formula containing green tea, citrus extracts, and cucumber. The rich, natural botanical ingredients create a luxurious, soap-free cleansing experience that revitalizes his skin, making it healthier and more radiant. It's great for all skin types, including dry, oily, and sensitive.
My choice is: Globiotics MD Probiotic Replenishing Cleanser 
The Globiotics MD Probiotic Replenishing Cleanser contains a blend of prebiotics and probiotics that improves the balance of the good bacteria on skin. This cleanser makes my skin feel squeaky clean but moist and fresh, soothes any redness, and creates a soft and radiant complexion.
STEP 2: Nourish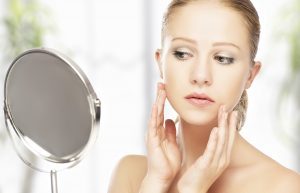 Once my husband has prepped his skin with the Clarisonic, he applies topical Vitamin C, which is a powerful antioxidant. Vitamin C helps his skin turn over cells regularly, and also promotes the production of rejuvenating collagen. Vitamin C alleviates skin inflammation, which is one of the factors involved in acne. Almost anyone can benefit from topical Vitamin C.
Instead of straight Vitamin C, I choose antioxidant formulations for my face, neck, and eyes:
Alto Defense Serum 30 mL™ by SkinBetter Science® https://skinbetter.com/products/
The Alto Defense Serum features an award-winning formulation that delivers 19 antioxidants to my skin to neutralize free radicals. The serum makes my skin look and feel radiant and vital. My skin tone is more even and free from redness.
InterFuse® Treatment Cream 15 mL Eye by Skinbetter  
Another award-winner, this eye cream reduces under-eye puffiness with a caffeine blend and specialized yeast derivative. It also has a neuro-calming peptide that relaxes the appearance of crow's feet (kind of like a mini Botox® treatment). Vitamin C brightens my skin, and a synergistic blend of humectants keeps it moist and supple.
STEP 3: Protect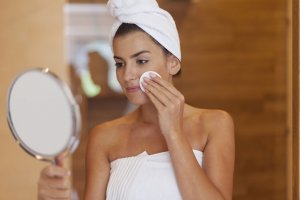 Both my husband and I agree that no matter what climate you live in, daily sun protection is essential. Here in sunny Charlotte, sunscreen's even more important.
He chooses: EltaMD® UV Replenish Broad-Spectrum SPF 44
This sunscreen contains zinc oxide and titanium dioxide as physical UVA and UVB blockers. And, for the record, this chemical-free formulation has no tint at all, which makes it great for guys.
I love the EltaMD sunscreens, too, but I prefer the formulations that have a light, natural tint. I might choose different SPFs and tints, depending on the season.
Dr. Kulbersh and Sara's Nighttime Routine:
We end each day with the Clarisonic and our favored cleansers. It's important to clean your skin at night, to remove old sunscreen, dirt, oil, and pollutants. Cleansing is especially important if you wear makeup, as I do. You don't want to clog your pores while you sleep.
My husband has it easy: After cleansing, he finishes with some Vitamin C serum. Then he's good to go for the next, most important element of healthy skin, hair, and body: a good night's sleep. Sleep is a time when your skin repairs and rejuvenates itself, so I help this process with:
AlphaRet® Overnight Skin Cream by SkinBetter Science
AlphaRet combines a retinoid and lactic acid to reduce the appearance of wrinkles in as little as four weeks, without the red face or irritation that other retinoid products can produce. While I sleep, a potent blend of antioxidants neutralizes free radicals on my skin so it can build healthy new cells. I've noticed an improvement in moistness, fine lines and wrinkles, skin texture, and tone.
Dr. Kulbersh and Sara's Hair Care Recommendations:
Now that you know our secrets for healthy skin, let's talk luxurious hair. Just like our skin, hair needs some special attention and care to keep our locks luxurious. 90% of men experience hair loss and we have great options to both stop hair loss and start the growth of new thicker hair.
My husband uses a full line of hair-care products including:
Viviscal shampoo and conditioner
Formula 82M hair drops
PRP injection into the hair
Viviscal supplement tablets
All of these treatments can be used on both men and women.  I have seen a significant improvement in the thickness and health of my husband's hair.
Book a Consultation Today
Now it's your turn! The good news is all of the products we listed are available at Carolina Facial Plastics. From medical-grade skin care to aesthetic treatments, Carolina Facial Plastics is your partner in healthy skin.
Don't forget, it's important to buy your medical-grade skincare from a medical practice in order to avoid counterfeit products that can be found online. Contact us today for a consultation or to stock up on your favorite skincare products. Not sure what products to buy? Come in and test our recommendations for yourself, or call us and we can help you find the products perfect for your skin.
More Like this
Get Ready for Summer with these Facial Rejuvenation Treatments