My Thoughts on Botched the new hit television show and My Friend Dr. Nassif
Botched is a new reality TV show about plastic surgery.  The show is based on patients that have undergone poor plastic surgery and had poor outcomes.  These patients are considered "Botched".  During each episode, two patient's plastic surgery stories are highlighted.  The audience learns about the patient's past including the reason why they had plastic surgery, the aesthetic issues, and how it has affected their lives.  Next, the botched patients are introduced to two highly skilled Beverly Hills plastic surgeons, Dr. Paul Nassif and Dr. Tom Debrow.  The patients undergo revision surgery to correct their initial surgeries.  The episodes highlight then entire process starting with the initial consult, surgery, post-operative visits, and the most anticipated moment, when their results are revealed.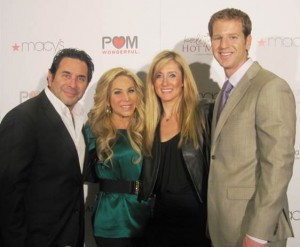 As many of my patients may know, Paul Nassif is a close friend and mentor of mine.  I did a fellowship in facial plastic and reconstructive surgery in Beverly Hills.  Dr. Nassif was a co-director and co-founder of my fellowship, and I spent two years refining and improving my facial plastic surgery skills under his direction.  This show has generated much conversation between my patients and me.  My patients often come to my office with questions about the show and Dr. Nassif.  In this blog, I want to highlight some of my thoughts about the show and Dr. Nassif.  I have to admit that I am biased based on my relations with Paul.  I will only discuss the aspect of the show in relationship to Dr. Nassif and his revision rhinoplasty cases.  As a facial plastic surgeon, I do not perform plastic surgery on the body, and I do not feel qualified to comment on these topics.
Setting Expectations During a Revision Rhinoplasty Consultation
I believe the show does a great job showcasing many aspects of plastic surgery.  There are key components that patients considering revision rhinoplasty must hear during the consultation.  Dr. Nassif states that he cannot return the nose back to its original shape or make the nose perfect.  Revision rhinoplasty is complex and can be technically challenging.  Dr. Nassif states that he believes there is a good chance that he can improve the appearance of the nose.  Patients undergoing revision rhinoplasty must have realistic expectations, and I believe Dr. Nassif does a good job setting these expectations.
Showcasing Advanced Revision Rhinoplasty Surgical Techniques
The overwhelming amount of my revision rhinoplasty training was with Dr. Nassif.  As one would expect, I approach the nose in a similar manner as Dr. Nassif and use many of the same advanced techniques.  Two commonly used techniques used during a revision rhinoplasty are:
1)      Rib Cartilage Harvest
2)      Temporalis Fascia Harvest
Frequently during a revision rhinoplasty, long, straight and strong cartilage is required to support and reshape the nose.  The common area where this cartilage is harvested is the nasal septum and rib.  Many times the nasal septal cartilage was used during the initial surgery leaving only the rib as an option.  Rib cartilage harvest has been frequently highlighted on Botched.
After each successive surgery, the nasal skin can become scarred, thin or irregular.  The best technique in my opinion to improve the nasal skin is to add a layer of tissue underneath the skin to thicken the nasal tissue.  This will soften the nose.  The tissue that is harvested for this technique is temporalis fascia.  This tissue is located immediately on top of the temporalis muscle in the temple region.
Dr. Nassif has successfully showcased both of these techniques on the show.  This has been beneficial to my practice and patients.  Before the show, when I discussed these 2 techniques with my patients, patients would be surprised that I would recommend taking rib cartilage or making an incision in their hairline to improve their nose.  After viewing the show, I believe patients are more educated and less surprised at these recommendations.
Choosing a Rhinoplasty Expert
The nose is located on the center of the face.  There are many reasons why patients choose to undergo rhinoplasty surgery.  There are also many reasons why a patient will choose a particular surgeon to perform their surgery.  This show highlights that results from a rhinoplasty cannot be guaranteed.  With the complexity of the surgery and the location of the nose, patients should take the surgery seriously and choose a surgeon that they believe will give them the best chance to achieve the results they are seeking.  Sometimes patients will choose their surgeon based on cost.  If a patient has to undergo a revision rhinoplasty they will end up spending more money in the long run.  Plastic surgery is not an area in life where cost should be the highest priority.
Dr. Nassif as a Mentor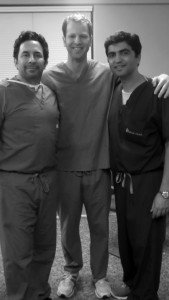 During my 2 years in Beverly Hills, Dr. Nassif and I became both professional colleagues and great friends.  During my fellowship, Dr. Nassif taught me many valuable skills to help me reach my full potential as a facial plastic surgeon:
1)      Advancement and refinement of my surgical techniques
2)      Facial and nasal analysis
3)      Learning how to pay attention to the finest detail
4)      Communication with staff and patients
As a mentor, Dr. Nassif personally cared about me and wanted to ensure that I became a great rhinoplasty and revision rhinoplasty surgeon.  This was obvious to me by the amount of time he would spend with me and how "hard" he was on me.  I knew he would be tough on me only to push me to make me a better surgeon.  In retrospect, I can confidently say that his "plan" for me was successful.
Dr. Nassif as a Great Person
I moved from Charleston, SC to Beverly Hills for my fellowship.  As you can imagine, when I arrived to Los Angeles I was slightly overwhelmed and nervous.  I had never been to LA and I did not have any friends in the city.  During my first week there, Dr. Nassif had me over to his house, invited me to social events (Barry Bonds birthday party), and took me out to dinner.  He wanted to help make my transition to the new city as enjoyable as he could.
Working with Dr. Nassif, it is evident how much he cares about his family, friends, and patients.  He is fiercely loyal and has a big heart.  Below are two stories that show how he went above and beyond as a mentor and friend.
Story 1- A Training Course
I did my 5 year residency at the Medical University of South Carolina.  During residency, I developed personal and professional relationships that will last a lifetime.  Every year at the Medical University of South Carolina, a course is taught about facial plastic surgery.  MUSC approached me to see if Dr. Nassif would consider coming to the course to teach.  As you may know, Dr. Nassif is extremely busy as a surgeon, father, and celebrity.  I thought the chances that he would fly cross county to my previous hometown to help with a small 2 day course would be small.  When I approached him about the idea, he was excited and happy to go to Charleston.  I know that he chose to go to the course because he knew that it would be beneficial for me.
Story 2- My Wedding
I was married in Scottsdale, Arizona during a very busy and personally challenging time in Dr. Nassif's life.  I invited Dr. Nassif to the wedding and he said he would do his best to attend, but there was a chance he would not be able to attend for personal reasons and obligations. The afternoon of my wedding, Dr. Nassif booked a last minute flight and came directly to the wedding from the airport.  It meant a great deal to me that he was able to be present during this special time in my life.
Summary
My goal in this blog was express how happy I am for Dr. Nassif.  He is a fabulous surgeon and a deep and caring friend.  I am elated that he is on a TV show that highlights these attributes, and I only hope that it brings joy into his life.