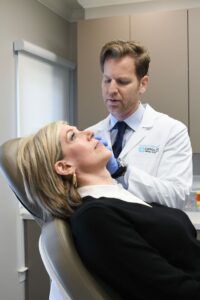 Wrinkles are the aging symptom everyone gets, no one wants, and few really understand how to best make them go away. That's where the team at Carolina Facial Plastics in Charlotte, North Carolina can help. We are facial rejuvenation experts, using surgical and non-surgical techniques to provide remarkable results and exceptional care for our patients. I am a double-board certified facial plastic surgeon, and with my team of expert injectors Heather Bryant and Courtney Whitley, we can help you achieve the plump, smooth, age-defying skin you desire.
Why Do I have Wrinkles?
Wrinkles are a natural part of the aging process, but they appear at different speeds and severity for everyone. Wrinkles can develop faster for some due to excess sun exposure or smoking habits, and they might progress slower for others due to genes. Whatever the reason wrinkles appear for you, the only way to get rid of them is to understand their cause.
There are two types of wrinkles: dynamic and static. Dynamic wrinkles develop because of repeated movements. Smiling, laughing, grimacing, and other facial expressions involve lines and creases in your skin. When we are young, these lines disappear when our faces are at rest, but as we age, these lines remain even when we are not making these facial expressions. These are dynamic wrinkles.
Static wrinkles, on the other hand, typically form as your face loses volume. Notable static wrinkles include:
Nasolabial folds (vertical lines along your nose)

Marionette lines (vertical lines along your mouth)

Horizontal lines along your neck
Smooth with Neuromodulators
Neuromodulators are a great option for smoothing away dynamic wrinkles. At our Charlotte, NC medical clinic, we offer the neuromodulators Botox® Cosmetic and Dysport. These products have similar formulations and both work by relaxing the underlying facial muscles that are creating your dynamic wrinkles. Results can last for 3-4 months, or even longer for some individuals. Studies have shown that by starting neuromodulator treatments early in life, you can prevent future wrinkles. With regular, 15-minute treatment sessions, you can maintain smooth skin for many years. To learn more, visit pubmed.gov. 
What Else Can Neuromodulators Do?
Neuromodulators do not just smooth away wrinkles. Physician Assistant Heather and Nurse Practitioner Courtney—who are both board-certified—can also inject Botox into your masseter muscle to relax your jaw, which can slim your lower face. Botox can also treat other issues, such as:
Migraines

Excessive sweating

Acne (

Microbotox

)
Plump with Dermal Fillers
Dermal fillers work differently than neuromodulators because the wrinkles fillers treat form for different reasons. Dermal fillers add volume and fill in lines and wrinkles, combatting the natural loss of fat and volume most people experience when they age. Dermal fillers consist of hyaluronic acid, a natural substance in the skin, to naturally and beautifully restore youthful facial contours. At our Charlotte office, Heather and Courtney offer the following dermal fillers to plump and refresh your face:
What Else Can Fillers Do?
At Carolina Facial Plastics, we remain at the forefront of facial cosmetic techniques, and we can use injectables for advanced procedures to create complete transformations.
Liquid facelift

: for a natural, beautiful facelift alternative. If you are not ready for a facelift or your signs of aging are not advanced, a liquid facelift may be a good option for you. This treatment combines neuromodulators and fillers for comprehensive facial rejuvenation. 

Non-Surgical Rhinoplasty

: I use dermal fillers for this procedure to fill in dips, balance asymmetries, and address other concerns of the nose for natural, temporary results. This is a great way to test out how

rhinoplasty

could work for you.

Non-Surgical Eyelift

: for refreshed, more youthful eyes. We use dermal fillers to smooth away under-eye bags, fill-in hollowing, and minimize discoloration under the eyes.
Which Injectable Is Right for Me?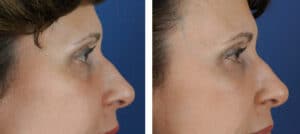 During your consultation at our Charlotte, NC medical clinic, Heather or Courtney will listen to your goals, assess your facial anatomy, and recommend a custom treatment plan. They may recommend a different treatment or combination of treatments besides or including facial fillers, according to your unique goals. Whatever your needs, our team that focuses exclusively on facial and neck rejuvenation will be able to help you reach your aesthetic goals.
Schedule Your Wrinkle Treatment at Our Charlotte Medical Clinic 
If you are ready to combat the signs of aging and look and feel your absolute best, contact the top aesthetic destination of the south and schedule your consultation today.