Would you like fuller lips for the New Year? Lip augmentation with dermal fillers is a noninvasive way to quickly achieve fuller lips with no downtime.
As a double board-certified facial plastic surgeon, I trained under the most prominent facial plastic surgeons in Beverly Hills and developed the "Needleless Filler Technique," a comfortable way to inject fillers that we use exclusively at Carolina Facial Plastics in Charlotte, North Carolina. We can help you achieve the look you want, just in time for the holiday season. 
Signs of Aging Lips
As collagen production slows with age, your once-full lips can become thin and flat, making you look older and throwing off your face's natural balance. If your lips were thin when you were younger, the effect may be even more pronounced.
And because of daily activities like talking, smiling, eating, and drinking, creases and fine lines begin appearing around the mouth—an inevitable sign of aging that can occur as early as your 30s. 
The Filler Solution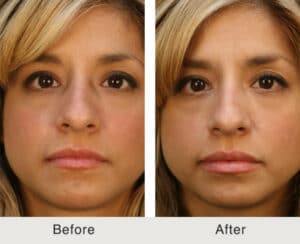 Lip augmentation uses injectable dermal fillers to add shape and fullness to the lips—a procedure we tailor to each patient's precise needs and goals. Courtney Whitley FNP-C, Amanda Piligian, PA-C, and Heather Bryant, MPAS, PA-C are experts in this treatment, ensuring that patients receive exceptional care and optimal results.
Lip augmentation takes only about 15 minutes, and most patients return to their normal schedule immediately after treatment. Dermal fillers can be used to add volume to the lips and to help fill in lines and creases around the mouth. 
Treatment Options at Our Medical Spa
At our medical spa, my team and I use Juvederm® and Restylane® for lip augmentation because of the versatility of these products–particularly when used on the lips. To ensure you get the best results from your treatment, we'll carefully choose the correct filler for your specific needs.
Smooth Away Lines
In addition to enhancing the lips, fillers are excellent for restoring lost volume in the face due to aging. There are many brands and types of fillers, each slightly different from one another and formulated for specific purposes. 
For wrinkles, deeper creases, and other concerns, Carolina Facial Plastics offers a variety of dermal fillers:
Juvéderm®

Voluma®

Vollure®

Volbella®

Restylane®

Restylane Contour®

Restylane Refyne & Defyne®

Restylane Silk®

Restylane Lyft®

Restylane Kysse®

RHA® – Revance
Your injector will determine which filler is best for you at your appointment based on your concerns and desired outcome. Results from fillers typically last around 6-12 months. 
If the fine lines around your mouth require more than dermal fillers, laser treatments may be a perfect complement to lip augmentation. Carolina Facial Plastics in Charlotte, NC, has several lasers intended for different purposes and results, including the cutting-edge Cool Peel Skin Laser. 
During your consultation at our medical spa, we'll examine your skin, discuss your goals, and determine which laser treatment will achieve the best results for you. Recovery from some laser treatments takes longer than recovery from injectables—sometimes as long as 7-10 days—so be sure to factor that into your planning. 
Other Filler Benefits
The nasolabial folds, often called smile or laugh lines, extend from the nose to the corners of the mouth. Years of smiling and laughing eventually result in noticeable creases that remain visible even when the face is at rest. 
Marionette lines develop around the mouth and extend down to the chin. They develop due to repeated movements of the mouth and jaw and from the volume and elasticity loss of aging.
Jowls are another visible sign of aging. The skin on both sides of the chin loses volume with age and begins to sag below the jawline. If there's excess fatty tissue around the cheeks and mouth, jowls can become prominent.
Dermal fillers work on nasolabial folds, marionette lines, and sagging jowls by temporarily plumping up lost volume in the skin. They also help attract moisture to the treatment area and stimulate collagen production to further fill in lines, wrinkles, creases, and sagging.  
Why Your Injector Matters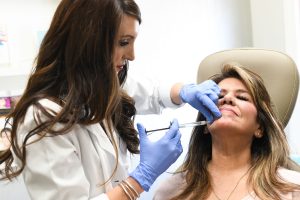 At Carolina Facial Plastics, we use a needleless injection technique for lip augmentation, making treatment more comfortable for our patients and reducing the risk of swelling or bruising. 
When a needle is used for this treatment, the treatment area is poked multiple times. The blunt-tipped cannula we use pushes the tissue to the sides, causing less trauma than a needle. We only use a needle during lip augmentation to apply numbing medication and make a tiny hole in the skin to allow the blunt cannula's insertion.
Results of lip augmentation and dermal filler treatment can look unnatural if not performed by an expert. Not every injector has the necessary experience and expertise to achieve the results you want. Our expert injectors, Dr. Kulbersh, Heather Bryant PA-C,  Amanda Piligian, PA-C, and Courtney Whitley, FNP-C are skilled in the use of dermal fillers and can create beautiful yet natural-looking results that meet your aesthetic goals.
Beautify for the New Year
You still have time to greet the New Year with a fresh, more youthful look. The first step is a consultation at Carolina Facial Plastics in Charlotte, NC. Contact us or book your appointment online today.