Whether you work from home or work outside the home, when you're responsible for raising kids as well as meeting deadlines, you may feel you don't have a minute for yourself. Sometimes, you even look like you don't have a minute for yourself. But self-care doesn't have to take a lot of time.
At Carolina Facial Plastics in Charlotte, NC, most of our staff are working parents. We understand that every moment you spend with us is a moment you could spend doing something else. That's why we offer lunchtime treatments for the busy working mom. In just minutes, you can erase the frown lines and other signs of stress that working two important full-time positions can cause.
Myself and our expert injectors, Courtney and Heather, are sharing some of our favorite and fast ways to rejuvenate on the go.
Make your skin do its own care
While excellent products with ingredients that are based on your unique needs are an essential part of taking care of your skin, you don't need to go through a half-hour routine of layering 10 products on your face every day to have healthy, strong skin. The best way to improve your skin quality is to delegate that work to your own cells.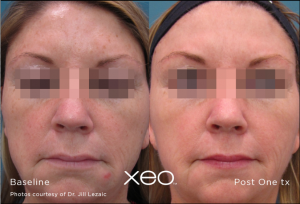 Intense pulsed light (IPL) treatments take less than 30 minutes in the office. The IPL device sends heat deep into your dermis, where it "orders" your skin to start a remodeling process that takes months to complete. Your body produces new collagen and elastin to improve the inner layers as well as the surface of the skin on your face, neck, chest, or hands.
Just as your boss can relax while you stress about deadlines, you can relax as your skin makes itself healthier over the next several weeks. An IPL treatment is especially adept at reducing or eliminating brown spots, visible veins, and other pigmentary issues. Some veins and lesions are completely cleared after your first treatment, while others take a few weeks to improve.
Not sure you want to "hire" IPL for the job? Consider microneedling instead. A 30-minute microneedling treatment stimulates your skin to heal and rebuild itself by creating thousands of tiny wounds with sterile, single-use needles. Microneedling also improves the look of acne scars and other types of scars on your face and body. 
Dr. Kulbersh may recommend a series of IPL or microneedling treatments once a month until you're satisfied with your skin's "work." After that, a yearly touch-up is all you need for skin that's:
Smoother
Clearer
More glowing
Tighter
Healthier
"Fire" your wrinkles
Microneedling and IPL photofacials are both great ways to revitalize your skin from the inside out, but they're long-term projects that take weeks to months to complete. If you want to get rid of your wrinkles immediately, you can knock them out in just minutes with injectable Botox® and dermal fillers, such as the Juvéderm or Restylane collections.
Botox works by blocking signals that your brain sends to the nerves in dynamic facial muscles. ncbi.nlm.nih.gov explains that after Botox, your dynamic muscles stay relaxed, instead of scrunching up in a worried frown, squinting hard enough to form crow's feet, or deepening the furrows on your brow. 
Courtney or Heather injects just enough Botox to relax your dynamic muscles so they don't create wrinkles, but not so much that you can't make natural, attractive expressions. Within days, your skin can look smooth, silky, and years younger. Your frown lines, forehead lines, and crow's feet are a thing of the past. Botox lasts about 3-4 months.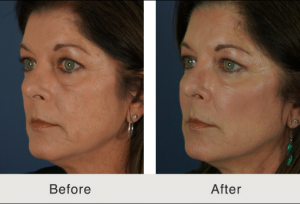 If you have wrinkles in other areas of your face, Courtney or Heather selects the correct type and consistency of hyaluronic acid (HA) dermal filler. The HA immediately plumps up the skin where it's injected, so that your wrinkle is essentially erased. They can treat fine lines and wrinkles — including the tiny perioral wrinkles known as smoker's lines — or deep folds and creases, such as marionette lines and nasolabial folds (NFL).
They also combine Botox and dermal fillers to create a liquid facelift. Some dermal fillers are so thick, such as Juvéderm Voluma, that Courtney and Heather use them to build up your cheekbones and restore lost facial volume. Combined with thinner fillers that smooth out creases and Botox to relax your forehead, you can get an instantly lifted, smoother, and more youthful look — in just about an hour — with no downtime or recovery. Dermal fillers last from 6-18 months.
Promote Your Hair
Hair texture and thickness changes as we age, and pregnancy can speed up these changes. Whether you want to thicken your hair, grow more hair, or work to prevent hair loss, we have options for you.
We also recommend vitamins and topical medications for confronting hair loss. Finasteride or "FinPlus" is a daily pill that usually works within the first 90 days to measurably slow, stop, and reverse hair loss. You can take this exclusively, but we commonly use FinPlus treatments in combination with topical medication, PLP or Platelet Rich Fibrin Matrix treatments, nutritional supplements, and Viviscal Shampoo and Conditioner. A consultation will allow us to recommend the best treatment for your hair goals.
Prioritize yourself with an aesthetic treatment near you
To make sure that self-care becomes a priority and you get the loving attention you need to feel confident and energized at home and in the workplace, be sure to add your lunchtime beauty treatments to your calendar. Contact our Charlotte, NC office today to set up your first appointment.