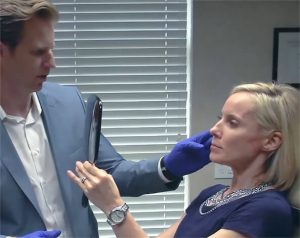 Now that we're gearing up for the rest of the holiday season, you might want to dedicate this month to giving your neck some much-needed TLC. The neck may be a particular area of concern as this part of your body tends to instantly give away your age.
We at Carolina Facial Plastics would love to help you look and feel your best for the holidays. At our Charlotte, NC office, we perform both surgical and nonsurgical aesthetic techniques designed to fully enhance each patient's own unique attractiveness. We offer procedures ranging from liposuction and facelifts to lasers and injectables that help lift and smooth the delicate neck area. By focusing 100% on cosmetic treatments for the face and neck, we've developed an expertise in facial procedures not found in other plastic surgery practices and can produce exceptional results in facial enhancements.
How Your Neck Changes As You Age
There's often an obvious distinction between the age of the face and the neck. Why the disparity? The skin on your neck is thinner, and like your face, it is also subject to dynamic muscle movement. Furthermore, aging slows down the production and maintenance of collagen and elastin, as well as other fibers and proteins that lend the skin its foundation and elasticity. With the lack of these necessary components, skin loses elasticity and will begin to sag, making wrinkles and folds more apparent. Along with genetics, weight loss, sun damage, pollution, and other environmental factors, skin laxity may become so severe that the neck begins to resemble the loose skin of a turkey, hence the term "turkey neck." Excess fat and sagging skin can also contribute to a double chin, which takes away some of the definition along your jawline. 
Reverse Your Signs of Aging
Whether you're noticing more rolls and wrinkles around your neck area or a more obscured jawline, these signs of aging need not become a fixture of your appearance. With surgical and nonsurgical procedures, you can tighten and lift the skin around your neck. As a double board-certified facial plastic surgeon, myself and my team of cosmetic experts, including board-certified physician assistant Heather Bryant and board-certified nurse practitioner Courtney Whitley, can help you reach the following facial cosmetic goals with neck rejuvenating procedures.
Tighten
Surgical procedures are still the gold standard when it comes to skin tightening and facial rejuvenation because nothing is as effective as removing excess skin to get rid of it. A neck lift, also called a lower rhytidectomy, does just this to erase the signs of sagging neck skin, reduce turkey neck, and leave patients with a beautiful throat and neckline. When rejuvenating the face and neck, I believe lifting the deeper tissues and muscle before excising the loose skin provides natural and long-lasting results. I never recommend targeting the loose skin alone when addressing signs of aging, even though the skin is the most visible concern.
I use the "hammock maneuver" to perform a neck lift. As the name suggests, the technique is similar to tightening the sides of a hammock. I will first make a small incision underneath the chin to hide post-operative scarring. Next, I will identify and tighten the platysma—the muscles of the throat region—to produce an angled jawline. Finally, I will tighten the deeper tissue along the jawline and around the lower part of the ear to pull up the sagging tissue. This technique can result in a smooth and very defined jawline.
Trim
Certain procedures can eliminate unwanted fat and enhance facial features, helping to define the line of the chin and achieving a more sculpted profile. Facial liposuction does this by removing excess fat from areas on the face and neck, improving your appearance by eliminating your double chin and jowl formation to reveal a more youthful contour. During the procedure, I will use tiny incisions to insert the cannulas in the treatment area, which are typically too small to leave much visible scarring behind. I will then use the cannula and suction to gently remove the excess fat. Pubmed.gov explains the results of facial or neck liposuction will gradually change the look of your face and neck. The results are so natural-looking, your friends and family may simply think you've lost a few pounds.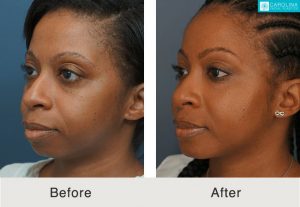 The chin plays a critical role in improving the balance and the overall appearance of the face. A small or recessed chin can either produce a weak jawline or amplify sagging skin on the neck or jawline. A chin implant, therefore, can provide a dramatic improvement to your facial profile.
I prefer to use silicone for chin implants as they can be easily customized to create the ideal shape for each individual patient. Additionally, should you wish to have the procedure reversed in the future, silicone implants can be easily removed. And when performing a chin implant procedure, I create the incision in the natural crease of the chin to ensure visible scarring after the procedure is minimal.
Injectables such as Kybella can also be used to address a double chin. This injectable dissolves fat cells in the targeted area. The treated cells are gradually absorbed by the body, allowing the skin to contract and create a slimmer neck and jawline. Patients will require a series of Kybella injections to achieve the best results.
Train
Because of the natural aging process, your vertical neck bands, called platysma bands, become more prominent due to constant use. And as skin becomes more lax and loses volume, these bands become even more noticeable. 
Did you know that Botox, the widely popular injectable used to treat moderate to severe lines and wrinkles, can also be used to reduce the appearance of platysma bands? While Botox is primarily known for erasing wrinkles as it targets the muscles, it can actually do much more. When injected into the neck area, it relaxes the muscles that pull down the jaw, thereby lessening these bands' appearance and smoothing neck wrinkles, making an aging neck look more youthful.
Transform
For a complete and dramatic neck transformation, you can combine a neck lift with other skin rejuvenating procedures such as a mini lift or facelift.
A mini facelift is a minimally-invasive surgical procedure that's less aggressive than a traditional facelift or neck lift. A mini facelift might be your best choice if you have early signs of aging, such as slight jowl formation and mild to moderate skin laxity. My goals for a mini lift are to:
Angulate your jawline

Remove jowls

Tighten skin

Trim redundant skin
Compared to a traditional facelift, a mini lift is conducted using smaller incisions, usually made along the hairline or above each of your ears. I will then pull your skin tissues upward through the cheeks to help correct sagging skin.
At Carolina Facial Plastics, we are committed to providing you with outstanding results from your mini lift. We are the only facility in Charlotte to have our own operating room and recovery center, keeping the whole process as simple and worry-free as possible. At our Fairview Surgical Suites and Recovery Retreat, you will be the only patient receiving treatment and recovering, so you can maintain privacy and comfort in your own recovery suite, complete with prepared meals and everything else you need to rest and heal.
To address more advanced signs of aging (e.g., jowl formation, sagging skin, and severe creases and wrinkles), I recommend a traditional facelift, called a rhytidectomy surgery. The procedure can be performed under local or general anesthesia and begins with a small incision hidden beneath the chin. I will remove excess fat from the neck and tighten the neck muscles to give the area underneath the chin more definition. This will help diminish the appearance of platysma (neck) bands. I will then create incisions in the temple and hairline which are carried to the ear area and hidden inside the ear or in a natural crease of the skin. I will identify layers of deep fascia tissue and muscle and lift them upward in the cheek and outward in the neck for a natural-looking result. This tissue is secured with sutures, and the excess skin is removed. A facelift can dramatically tighten your skin, restore definition, and rejuvenate your appearance.
Additional Neck Treatments to Consider
Laser and light therapies, along with other nonsurgical or "no-knife" neck procedures can complement your other cosmetic procedures by promoting collagen production and further improving the tone and texture of your skin.
The revolutionary Cool Peel Laser can achieve the dramatic results of a CO2 laser but without the long downtime and side effects that usually comes with an ablative laser treatment. This laser can treat the face, neck, and décolletage for a uniform result. This laser treatment can improve the quality of your skin, treat fine lines, and improve skin texture.
Profound RF can smooth and tighten the skin on your neck by stimulating your body's natural healing processes. Rf energy travels through tiny needles into your skin, and as your skin heals, it returns firmer and overall more youthful. After a one hour treatment, you can rejuvenate your neck and face. Results will steadily become more apparent, and final results will be visible  after 6-12 months.
The Limelight IPL Photofacial is another non-invasive approach to skin revitalization. This advanced Intense Pulsed Light technology is a customizable treatment that offers the advantage of treating discoloration, texture issues, and other surface imperfections associated with aging and sun damage. It delivers precise amounts of light energy to the treatment area to correct skin discoloration and stimulate collagen production, effectively reducing the effects of aging and resulting in a softer appearance of the skin. 
Rejuvenate Your Neck in Charlotte, NC
At Carolina Facial Plastics, we offer remarkable results and exceptional care by using the most modern cosmetic techniques in an all-inclusive aesthetic destination. Contact us today to learn how we can help reverse the signs of aging and revitalize your appearance.