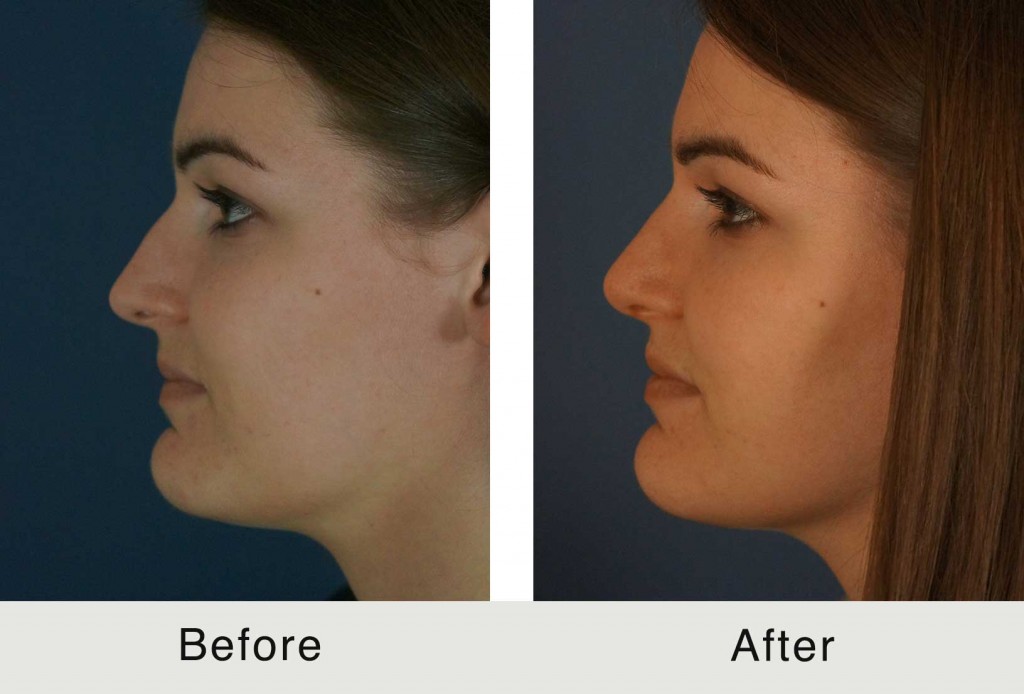 A rhinoplasty, or nose job, performed on patients under the age of 20 is considered a teen rhinoplasty. This rhinoplasty procedure involves the same overall surgical techniques used on adult patients, however, Dr. Kulbersh must ensure the patient is both physically and emotionally ready for the procedure.
It is imperative that before a teen undergoes a rhinoplasty, he/she is choosing to undergo the surgery for the right motivations.  The motivation to undergo a rhinoplasty should originate from the patient and not an outside force such as friends or family.  Additionally, patients should have realistic expectations and goals.  Dr. Kulbersh will only perform a teen rhinoplasty if it is clear the patient is mature to have facial plastic surgery.
Having said that, Dr. Kulbersh strongly encourages teens to involve their family members in the rhinoplasty process.  It is imperative the teenage patient has the support and understanding of their support system to ensure they have the best experience and result.
Common Reasons for a Teenage Rhinoplasty
Teen patients often seek out a rhinoplasty for one of two reasons: to correct a facial imbalance caused by a disproportionate nose or to correct breathing problems.
Facial Imbalance:
If a teen's nose seems to offset their face, it can cause insecurity and anxiety. Teen patients often seek a symmetrical, natural-looking nose. During the initial consultation, we will address the specific concerns and desires of the patient and deduce whether a closed, open, or non-surgical rhinoplasty would be the best course of action.
Characteristics That Create Facial Imbalance:
Crooked Nose
Long or Short Nose
Bulbous Tip
Dorsal Hump
Uneven Nostrils
Nasal Injury
Breathing Problems
Nasal obstruction often causes fatigue, exercise intolerance, and trouble sleeping. We find that teen patients seek out a nose job to correct their breathing function as well as the overall appearance of the nose.  A consultation is needed to determine the exact cause of the problem, whether it is medical or structural.
Medical problems include chronic sinusitis and allergies, while structural issues involve deviated septum, narrowing of both internal and external nasal valves, and turbinate hypertrophy.
Breathing problems that are medical can be typically resolved with over-the-counter or prescription medication. If the breathing issue is caused by a structural problem, surgery is more common. However, an alternative to certain conditions, such as turbinate hypertrophy, is to administer a steroid nasal spray to try and reduce them. Then, if the spray does not does work, turbinate reduction surgery can be performed.
Whether the intention is to achieve a more aesthetically pleasing nose or to correct breathing issues, a preliminary consultation is always required. It is often a tough decision for a parent to agree to allow their child to have a rhinoplasty. There are many thoughts, opinions, and concerns on the subject, and there are no right or wrong answers. The most important thing to know when deciding whether or not a teenager should be considering a rhinoplasty, is the intention behind the surgery and that the teen is fully comfortable with the procedure.
Key Points of a Teenage Rhinoplasty
A teenage rhinoplasty has to be designed and preformed to create noses that will last a lifetime.  I believe that during a rhinoplasty, the nose is inherently weakened and it must be re-supported if the nose requires it.  The nose is re-supported during surgery with the help of cartilage grafting.  I believe this is one area that is commonly overlooked by rhinoplasty surgeons, and I ensure to create a strong nose that will last a lifetime during a teenage rhinoplasty.
Find Experienced Help Today
At the initial consultation, Dr. Kulbersh will assess the patient's maturity level, motivation behind the surgery, and overall understanding of the procedure to ensure a successful outcome.  During that meeting, Dr. Kulbersh and the patient can change the shape of the patient's nose on a computer to help discuss the goals of the rhinoplasty.  Dr. Kulbersh will take this picture with him to the surgery and use it as a guide to help create the best result.
To learn more about teen rhinoplasty in Charlotte, contact Carolina Facial Plastics today by calling (704) 842-3644 to schedule your consultation.
Next, read One of the Best Kept Secrets to Balance the Face: Chin Augmentation