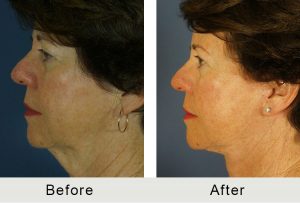 The neck is an integral part of the human body to maintain, and it should not be neglected. When people think of having a work done to reverse the signs of aging, they normally focus on the face: the eyes, forehead, and cheeks. What people sometimes don't realize is how important the neck is. The neck is one of the first areas to show signs of aging. As we age, our skin loses its elasticity that it once had when we were younger. This results in volume loss and leads to sagging. People in North Carolina commonly refer to sagging of neck skin as "turkey neck," where the loose skin gathers and fat deposits appear.
Whether you choose non-surgical or surgical, a neck lift treatment can revitalize the skin around the neck and lead to natural, long lasting results that reflect a more youthful appearance and reverse the signs of aging.
In order to decide which is right for you, it's important to understand the definition and differences of each.
What is a Surgical Neck Lift?
A neck lift, also known as lower rhytidectomy, is a surgical procedure that revitalizes the neck and throat. It differs from a facelift, as it requires smaller incisions, is less invasive, and only focuses on the aforementioned areas. A neck lift is performed by making a small incision beneath the chin. From there the doctor tightens the muscles around the throat to contour and define the jawline. Finally, the doctor tightens the tissue located beneath the ear, so that he can pull up the sagging tissue from the chin and jaw line. This procedure is commonly referred to at our office as the "hammock maneuver." Imagine how you might tighten a hammock and apply that logic to tightening the neck. The lack of incisions and less invasive nature of the procedure allows for a minimally painless and natural looking outcome.
What is a Non-Surgical Neck Lift?
A non-surgical neck lift is a good option for less severe signs of sagging. If there is minimal laxity, a non-surgical neck lift can be performed using dermal fillers and/or injectables. Dermal fillers are products that are either composed of hyaluronic acid or collagen based. Using natural substances that occur within the human body, dermal fillers can be injected to plump and lift certain areas of the face and neck that have lost volume. At our office, we use a needleless blunt-tip cannula to make filler injections, which allows for less trauma and swelling at the injection sites.
Kybella is a unique injectable used to treat double chin fat and turkey necks. As the skin and bone of the face begin to disappear, fat deposits gather beneath the chin and around the jawline. Kybella, composed of a naturally occurring bile acid, will naturally attack and kill fat cells once injected. This treatment takes place over a period of four to six weeks with two to four treatments.
Read more about Kybella injections at WebMD.com.
Non-surgical neck lifts are a great option for patients in North Carolina who are hesitant to undergo surgery. While the results may not be permanent, they look natural and require no downtime.
Signs of Aging
The signs of aging that can be used as identifiers when considering a surgical and non-surgical facelift are the same.
As mentioned earlier, as the body ages, the skin loses elasticity and begins to sag.  Since the neck is the first area of the upper body to show signs of aging, you may notice the following signs as the skin begins to fall:
Excess fat and skin bunching in the lower neck
Turkey neck-like fat deposits around the throat
Fatty deposits beneath the skin
Muscle banding in the neck
What is the Recovery Time After Cosmetic Surgery?
There may be slight to mild discomfort after having a neck lift, as incisions were made into the skin, but a neck lift is not considered generally painful. Generally, the majority of the swelling and bruising will dissipate in seven to 10 days.
Which is Right For Me?
Choosing which neck lift procedure is right for you is ultimately a personal decision. Generally speaking, if a patient is wary about undergoing surgery, it is best to try a non-surgical neck lift. While the results are not permanent, it allows the patient to get an idea of what the surgical procedure could look like, without committing fully. It is imperative to be physically and mentally prepared when undergoing any kind of Charlotte cosmetic procedure. If you have any doubts and your doctor cannot assuage your concerns, it is best to hold off for the time being.
Find the Sleek Neck that is Right for You
Dr. Jonathan Kulbersh provides effective and individually-tailored neck lifts that utilize his years of experience in the field and in-depth training as a double board-certified facial plastic surgeon. If you would like to learn more about neck lift treatments, get in touch with us today to schedule a consultation.
Next, read Which Filler is Right for You?