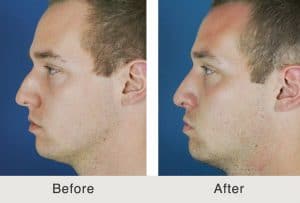 Many people have been talking about rhinoplasty since Lisa Kudrow revealed the positive impact of her nose job when she was 16. As a top rhinoplasty surgeon in Charlotte, NC, Dr. Kulbersh wanted to take this opportunity to address some of the common rhinoplasty questions he hears from my patients.
Rhinoplasty Question #1: At what age can you get a rhinoplasty?
It is common for a teenager to undergo a rhinoplasty to improve the appearance of his/her nose.  The procedure can have many positive results including improved self-esteem and breathing.  The youngest age I will perform a rhinoplasty is at age 15.  The teenager must be both physically and emotionally mature to undergo the surgery. It is beneficial to  have the patient's family involved and supportive in the process no matter the age of the patient.
Many young and old adults undergo a rhinoplasty.  For our adult patients, we ensure that they are healthy both physically and emotionally to under surgery.
Rhinoplasty Question #2: Will a rhinoplasty leave scars?
One of the main goals of a facial plastic surgeon performing a rhinoplasty is to produce the patient's desired result while concealing any possible scarring. As a Beverly Hills trained rhinoplasty surgeon, Dr. Kulbersh places the incisions in areas that are hidden in shadows or inside of the nose, mostly inside the nose. Using advanced surgical techniques, he is able to minimize the appearance of scarring.
Rhinoplasty Question #3: When will I see results?
Patients will see results within a few weeks after surgery, but they will not be the final results.  The swelling in the nose resolves over 1 year.  Typically, 80% of the swelling is gone after the first 4-5 months although every patient heals differently. Most commonly, 1 year after a nose job is the timing for the final results of a rhinoplasty.
Rhinoplasty Question #4: What is the recovery process?
After rhinoplasty, patients will wear a splint on the outside of the nose for approximately one week. Patients experience swelling and bruising after surgery. We advise our patients to rest for the first week and avoid strenuous activity for about 4-6 weeks following the procedure.  Patients are presentable 1-2 weeks after surgery. We will be available during every step of your recovery to ensure you experience a smooth healing process.
Contact Carolina Facial Plastics For Answers to All Your Rhinoplasty Questions
If you are curious about the rhinoplasty procedure, it is important that you are able to get all of your questions answered. As a rhinoplasty specialist, Dr. Kulbersh makes sure all of our patients fully understand the procedure before he performs surgery. Contact Carolina Facial Plastics at (704) 842-3644 today to schedule a consultation.
To learn more about rhinoplasty in Charlotte, contact our office.