Charlotte Facial Plastic Surgeon Recognized as Top Influencer in Face Lift and Rhinoplasty Procedures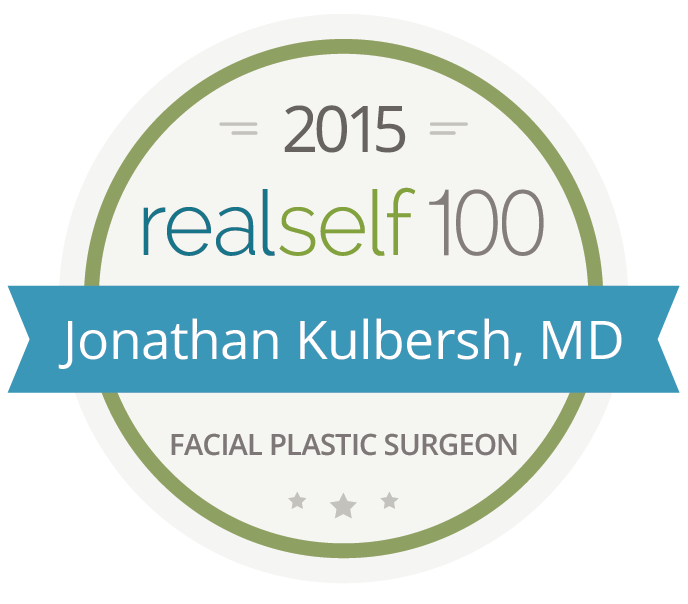 Dr. Jonathan Kulbersh is 1 of 100 doctors to receive the prestigious and highly sought-after RealSelf 100 Award, out of nearly 13,000 specialists with a presence on RealSelf – the leading online community to allow patients and doctors to interact within a public forum, giving doctors the opportunity to help people make confident, educated choices on elective cosmetic procedures.
"In recent years, plastic surgery and cosmetic procedures are on the rise.  More and more men and women are not only undergoing cosmetic procedures, but 1 in 4 U.S. adults share their health experiences on social media. RealSelf is a credible, informative forum that provides valuable insight for patients or those considering certain procedures. They can ask questions in a safe environment and receive honest answers from specialists within their field of inquiry," explained Dr. Kulbersh.
"The doctors receiving this award were among the top 1% of our 13,000-member doctor community in 2015," said Tom Seery, RealSelf founder and CEO. "When I started RealSelf, many doctors questioned why they should 'give away' their expertise 'for free' on the web. Now, eight years later — and with over one million doctor answers on our platform — we are proud of the standard this select group has set. They're leading the way by empowering millions of consumers to gain access to the information they need to make smart and confident health and beauty decisions."
"As a doctor, it's very rewarding to know that you can help patients by sharing your skills and advice with them one-on-one, but, now, with RealSelf, that piece of advice you offer one person can reach millions," informed Kulbersh.
Dr. Jonathan Kulbersh is an expert contributor to RealSelf, and to date has posted 1,553 answers to questions on RealSelf. Each month people from all over world ask important aesthetic-related questions, such as "Am I too young for a face lift?"  Dr. Kulbersh maintains a perfect patient star rating of five out of five stars in RealSelf reviews.
"It's a honor to receive this award," said Kulbersh. "I am elated that there is an active forum where doctors can offer their personal experience and insight on so many topics, allowing patients to read differing opinions and decide the best course of action for themselves.
For more information about Dr. Jonathan Kulbersh, view his bio here. For the full list of RealSelf 100 Award winners, click here.
Next, read about What Are the Reasons Behind Teenage Rhinoplasty?