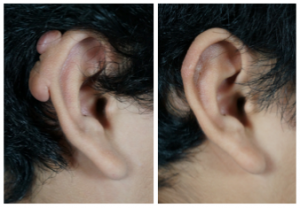 A keloid is the formation of a large scar after an injury to the skin from trauma, an incision, or piercings.  In normal healing, a scar forms, strengthens  and contracts overtime.  A keloid reaction is caused by an over reactive immune system.  The scar does not stop growing and it creates a wide, discolored, and raised scar.  In patients that have a history of keloid formation or in patients where I am performing a keloid excision, there are unique steps I take to prevent the formation of keloids.
FIRST STEP
A keloid is caused by an injury to the skin.  During a procedure involving a keloid in Charlotte, after I make the incision on the skin, I do not touch the skin again during the surgery.  I believe touching or squeezing the skin during the surgery can causes unwanted trauma to the skin.  I believe this trauma may stimulate a keloid formation.  In order to complete the procedure, I manipulate the tissues beneath the skin to prevent injury.  While this may seem like a small detail, every detail counts to prevent the formation of keloids.
SECOND STEP
When I stitch up the incision, I place sutures beneath the skin to bring the skin edges together.  This places the tension on the incision below the level of the skin.  This allows a tensionless closure to the skin.  Tension on the skin can cause the scar to widen overtime and stimulate the formation of a keloid for my patients in Charlotte.
THIRD STEP
Wound modulation is the technique to prevent the immune system from becoming over-active.  I inject medications that slow down or turn off the cells responsible for creating a keloid.  The medication I most commonly inject is 5-fluorouracil mixed with a small amount of steroid.  I have used 5-fluororuracil for years to prevent the formation of keloids with great success.  I will inject the medication immediately after completing the procedure and continue with a series of injections 2-4 weeks after the procedure.
Learn More About Keloid Surgery in Charlotte Today
A keloid reaction in Charlotte can create a poor outcome to an otherwise successful procedure.  I have created a plan for my patients to allow the best chance to avoid a keloid after a procedure. If you're suffering from a keloid and woud like to learn more about how I can help you overcome the condition, I encourage you to contact my practice in Charlotte today.