A lifted, wrinkle-free appearance is the envy of women and men of all ages, but it's sometimes difficult to know how to obtain it. With countless treatments and techniques available, you need a knowledgeable, experienced team to help guide you through your cosmetic journey. At Carolina Facial Plastics, we take pride in providing an all-inclusive aesthetic destination for our patients in Charlotte, North Carolina. Myself and my team of experts that includes Heather Bryant PA-C, Amanda Piligian, PA-C, and Courtney Whitley FNP-C help patients achieve their aesthetic goals with custom surgical and non-surgical treatments.
Liquid Facelifts for Quick Rejuvenation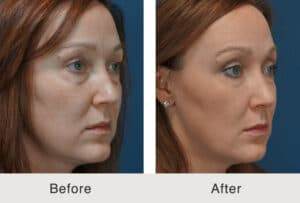 Many younger patients come to our plastic surgery clinic for liquid facelifts. This is a great option for those with less advanced signs of aging and who want an overall refresh. I use a combination of injectables for my custom liquid facelifts. Depending on what areas and concerns you'd like addressed, I will recommend the best dermal fillers and neuromodulators to achieve your desired outcome. With a liquid facelift, you can address:
Fine lines and wrinkles

Droopy eyebrows

Under-eye bags

Jowls

Gummy smile

Jawline contouring

Low cheekbones
Depending on the injectables I use, your liquid facelift results could last for up to two years after just one treatment session.
Why Choose a Liquid Facelift
Less risk (no anesthesia or incisions)

No scarring

No recovery period

Can be a test of what a surgical facelift could accomplish
What You Need to Know About Surgical Facelifts
Surgical facelifts are the gold standard in anti-aging treatments because they can provide the most dramatic and longest-lasting results. Thanks to advancements in technology and techniques, facelift results are much more natural now, leaving behind the "windblown" look many experienced when the procedure was new.
As you age, your skin loses elasticity, leading to sagging, deep creases, wrinkles, droopy eyelids, jowls, and an unpronounced jawline. A surgical facelift can improve all these concerns in one procedure. I don't just treat the outward manifestations of your aging during a facelift; rather, I fix the underlying cause. During your procedure, I will tighten underlying muscles, trim excess skin and fat, and reposition the skin for a thorough approach. To further your results, you may choose to combine other treatments with your facelift, such as:
Fat transfer to the face

to add volume and increase the lift and definition of the cheekbones

Jaw or neck liposuction

for a slimmer, tighter neck and jowl region

Cheek implants

to raise the cheekbones, highlighting the mid-face and creating a youthful contour

CoolPeel laser resurfacing

and

chemical peels

to rejuvenate the outer layer of skin
Why Choose a Surgical Facelift
Surgical facelifts can be a great option for long-term anti-aging results, but it's not the right choice for everyone. To help you understand if a surgical facelift is right for you, I'm sharing five reasons people choose to undergo this procedure:
1. Your Aging Symptoms are Advanced
We offer numerous anti-aging treatments at our Charlotte, NC plastic surgery clinic, but if your aging symptoms are advanced, no other treatments can compare with a surgical facelift. When wrinkles are deep and skin laxity is progressed, injectables and laser and light devices won't be able to fully address these concerns. This is when a facelift is your best option. Not only can it fully refresh your appearance, but the results can last up to 10 years.
If you don't feel ready for a full facelift or your aging symptoms aren't quite advanced enough, I may recommend a mini facelift, also known as an Awake Mini Lift. This procedure is less invasive and requires less recovery time while still being able to address many aging symptoms.
2. Loose Skin is a Big Problem
I can treat some skin laxity with laser devices and microneedling devices like the Profound RF and the Virtue RF, but at a certain point, skin laxity can only be successfully treated with a facelift. This is because I actually trim off excess skin and reposition the remaining skin during this surgery. Common concerns caused by loose skin that I can treat during a facelift include:
Jowls

Turkey wattle

Overall droopy appearance

Sagging skin around the eyes
3. You Don't Want to Stop with the Face (Add a Neck Lift)
While most people focus on the face when seeking anti-aging treatments, the neck is just as important. Neck skin is thinner and more susceptible to aging symptoms, and if the face and neck are out of balance, your entire appearance can seem off. If you're considering a facelift to resolve a sagging, aging face, you almost undoubtedly will benefit from a neck lift, too. Getting a facelift alone could be considered the equivalent of going to the gym but only working out your left arm, not your right: The end result looks unbalanced and accentuates the difference between the two. This is why I nearly always recommend combining a neck lift with your facelift.
4. You Want a One-and-Done Approach
Surgical facelift results can last for up to 10 years, so once your procedure is done, you won't need to schedule follow-up appointments every few months. Plus, with our beautiful Fairview Surgical Suites and Fairview Recovery Retreat in Charlotte, you can experience a comfortable, private recovery with 24/7 care to make your entire experience feel luxurious. It is a small, pampering investment to ensure the most dramatic anti-aging results.
5. You Want to Turn Back the Clock in a Big Way
Injectable, laser, and other cosmetic treatments can help keep a youthful, rejuvenated appearance for many years for most patients, but if you're ready for dramatic, long-lasting improvement, it may be time for a facelift. My facelifts can take 10 years or more off your appearance, with beautiful, natural results.
Facial Rejuvenation Starts at Our Plastic Surgery Clinic
Still wondering if a facelift is right for you? Contact our Charlotte, NC office to schedule your consultation today.