Getting older brings several benefits to our lives—we become successful in our career, enjoy our families , possibly travel, and have the chance to have experiences that we always dreamed of. However, experiencing all of life's wonders can take a toll on our face, which might include new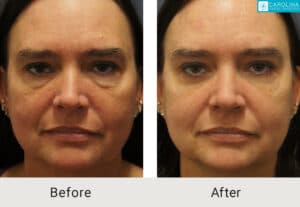 wrinkles, fine lines, damage to the skin, and volume loss. As an expert facial plastic surgeon in Charlotte with an extensive knowledge in facial rejuvenation techniques to slow and diminish the aging process, I know that taking preventative measures is one of the best ways to keep a natural and youthful facial appearance well into your later years.
To help my patients overcome the aging process, I've gathered my best tips for delaying the onset of facial aging.
1. Prevention With Injections
When you think of getting older, I'd be willing to bet that you're not excited to wake up one day and notice crow's feet beginning to appear around your eyes! To prevent the formation of crow's feet, I inject Botox to prevent their formation. Though Botox is most often use to diminish wrinkles after  they have  appeared, it can also be injected as a prevenative measure to prevent their formation in the first place.
2. Rinse, Lather, Repeat!
The face is exposed to UV light on a daily basis.  UV light causes damage to the skin causing brown spots, rough texture, large pores, and destroys the elastic compent of the skin.  I believe in using organic medical grade skin care to repair damage skin and keep the facial skin looking great.  I recommend Image Skin Care as it is free of petrochemicals and parabenes.  The using of daily skin care that repairs, protects, and heals is imperative for patients of all ages.  The continued use of chemical peels will only enhace the results and keep the skin looking bright for many years to come.
3. Collagen is Key
Perhaps the most important part in maintaining the youth in a face is the promotion of collagen within our skin. When a face maintains collagen production it look brighter, clearer, and more vibrant. To prevent wrinkles and volume loss from occurring early on, it's a good idea to begin using anti-aging products in your early 20's and use throughout life. If you're unsure of which products to choose, select labels that include Retin-A, Renova, vitamin C and hyaluronic acid–a substance found naturally in your body which is also utilized in facial fillers.  These products are both safe and effective in a comprehensive skin treatment plan.
Speak With An Experienced Facial Plastic Surgeon Today
Understanding the different measures that you can take to keep the signs of aging from gracing your face is key in delaying the process. If you're interested in learning more about the various non-invasive ways that I treat patients at my office in Charlotte, I encourage you to contact my practice today to schedule your initial consultation by calling (704) 842-3644. Whether you're in your 20's, 30's, or 40's, I'm confident that I'll be able to tailor a unique treatment plan to meet your needs and goals.
For additional information regarding Botox, Facial Fillers, and other facial rejuvenation techniques, please contact Carolina Facial Plastics today.