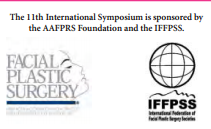 This past week, I spent a week in New York City attending the 11th Annual International Facial Plastic and Reconstructive Symposium.  The field of facial plastic surgery is always evolving.  These meeting are invaluable for plastic surgeons to critically discuss techniques and outcomes in a constructive manner in order to improve outcomes.  I would never claim that I know everything about facial plastic surgery.   In this blog, I would like to11th Preliminary Schedule outline some of the lessons I learned and how I plan to incorporate them into my practice in North Carolina, Carolina Facial Plastics.
Lesson #1-New Emphasis on Skin Care
In the practice, we offer a variety of skin care services and products.  We are able to significantly improve the appearance of the facial skin.  In order to get better results for patients with more advanced signs of facial skin aging, more advanced treatments must be provided.  Up to this point, my medical aesthetician has been providing the majority of my available skincare treatments.  I am going to take a greater involvement in the skin care of my patients by increasing the availability of more aggressive treatments.  These treatments can only be provided by a doctor.  This will provide better results for the appropriately selected patients, but will require some downtime.
Immediately, I will offer stronger chemical peels in the office that I will perform.  They will be aimed at patients with more advanced sun spots and wrinkling of the skin.  This will benefit patients that have fine wrinkles on the face, underneath the eye, and around the mouth.
In the near future, we will be adding laser technology to tighten, lighten, and smooth the skin.  These services will be provided by the medical aesthetician, but will provide our patients with additional options to improve the quality of the skin.
Lesson #2- Evolution of Rhinoplasty
Facial plastic surgery is both an art and a science.  For these reasons, there are many philosophies and techniques that different rhinoplasty surgeons use to achieve the same natural results.  These meetings allow me to continue my growth as a physician, scientist, and artist.
I learned a surgical technique to carve or mold fine detail of the nasal cartilage.  I believe this new technique will allow for increased precision on delicate changes to the nasal cartilages.
Lesson #3- Evolutions of Blepharoplasty
During the meeting, there was much discussion about the relationship between the upper eyelids, eyebrows, cheeks, and lower eyelids.   I continue to train my eye to identify subtle nuances that create the appearance of a harmonious peri-ocular region.  As far as a technique perspective, I have a greater appreciation of the importance of the strength of the muscles around the eye and their effect on shape and aging process of the eye region.
Lesson #3- New Keloid Treatments
I successfully treat keloids in my practice on a daily basis.  I am very pleased with my current treatment and results of facial keloids.  I learned of a new technique to treat very large keloids that were previously not amenable to surgery.   The technique involves removing the keloid and using a synthetic matrix as a lattice for the body to regenerate new tissue.  It has promising results, and I believe a great option for patients with very large keloids.
Lesson #4- Confirmation of Face and Necklift techniques
Of great debate in the facial plastic community are the different techniques used in face and neck lifts.  There are some general guidelines that most surgeons agree including lifting the deeper layers and not the skin.  I believe that the best indicator of a successful outcome is the ability of the surgeon to identify the problem area and their surgical skill.  I feel this way based on the multiple great results I witnessed using different techniques.
Lesson #5- Scientific Meetings are Important
In speaking with my colleagues at these meetings, it is a universal acceptance that we all pick up a few "nuggets" that will make us more efficient, improve our techniques, and improve the quality of our care.  If a surgeon does not commit to a lifelong journey of continued education then he will not continue to evolve professionally.  Facial plastic surgery is a rapid changing field that I am committed on staying on the forefront of.  I feel this meeting made me a better surgeon and provided me additional skills to care for my patients.  I look forward to attending the next meeting.