As we age, the effects of gravity and time become more noticeable, and we can begin to look older than we feel. 
Does your outer appearance no longer match the way you feel? If not, facelift surgery or mini lift may be good options for you. Before you undergo any surgical procedure, including a facelift, it is important to ask the right questions to ensure the surgeon and procedure you select are the best fit for you. I have five essential questions you should ask a surgeon before undergoing this procedure.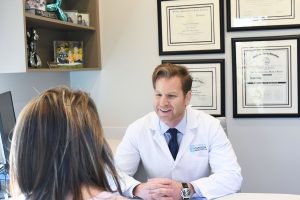 1. Is a facelift the best option for me?
If you're seeing signs of aging, such as sagging, loose skin, and deep wrinkles, a facelift may be the correct procedure for you. However, there are a variety of cosmetic procedures that could effectively address aging concerns, such as a neck lift, brow lift, or eyelid surgery. If your goal is to address early signs of aging, a mini lift might also be a better choice. 
When I meet with you in my Charlotte, North Carolina plastic surgery clinic, I will take plenty of time to discuss your specific concerns and goals with you. That allows me to determine whether you're a good candidate for a facelift or if another procedure—or combination of procedures—would be better fit for you. 
2. What are your qualifications?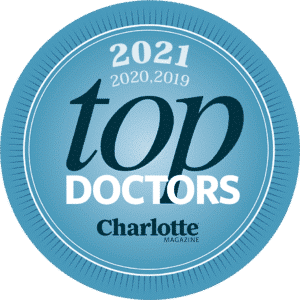 Don't trust your face to any surgeon. Make sure you work with a doctor who is qualified, experienced, and has the necessary skills to produce the best possible result for you. 
As a double-board certified facial plastic surgeon, I am committed to producing exceptional, natural-looking results. While general plastic surgeons divide their time between face and body procedures, I focus exclusively on facial procedures. This provides me with the necessary experience and expertise to achieve superior outcomes for my patients.
My reputation has earned me local and national recognition that I am quite proud of: 
Selected as a Top 100 RealSelf Doctor four years in a row

Included in the RealSelf Hall of Fame

Received the BOB award for Charlotte's Best Facial Plastic Surgeon in 2019, 2020, and 2021

Named Top Doctor in Plastic Surgery by Charlotte Magazine in 2019, 2020 and 2021
3. Which technique do you recommend for my facelift?
I offer a variety of  facelift techniques so I can customize my surgeries to each patient's specific needs.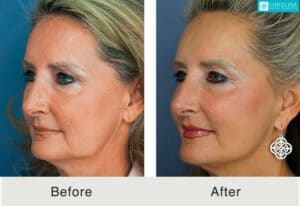 A traditional facelift effectively targets multiple aging concerns in a single procedure.
Benefits of a traditional facelift (rhytidectomy)
Tightens underlying facial muscles

Repositions facial tissue that has fallen over time

Removes loose skin for a smoother look

Removes excess fat in the neck and jowls

Lifts cheeks to a more youthful position

Duration of results: 10+ years
The neck often shows signs of aging even before the face, so many patients choose to have a neck lift performed simultaneously for optimal results. A neck lift addresses symptoms under the chin and around the neck, such as skin laxity, submental fat, and horizontal banding.
A mini lift is a less aggressive surgical procedure than a traditional facelift. A mini lift may be the right choice if your goal is to address early symptoms of aging, such as mild-to-moderate skin laxity and minor jowl formation. I refer to mini lifts as "awake mini lifts" because only local anesthesia is needed for the procedure. 
4. Where will the surgery be, and how will you perform it?
Carolina Facial Plastics is the only boutique plastic surgery clinic in Charlotte to have its own operating room and recovery center, the AAAASF-certified Fairview Surgical Suites. Your procedure will be performed in our dedicated facility.
We will discuss the type of anesthesia to be administered and details of your procedure in detail at your consultation. 
5. What should I expect from the recovery process?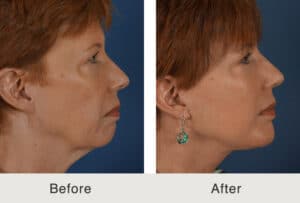 After a traditional facelift, you may choose to recover at home or spend the first days in our recovery center, Fairview Recovery Retreat. Located in the same building as Carolina Facial Plastics, Fairview Recovery Retreat is a post-operative facility designed to provide post-surgery care in a luxurious setting. You'll receive attentive medical care and VIP treatment to help get you back to your regular activities as quickly as possible.
Following your surgery, you'll be moved to the recovery room. Nurses and the anesthesiologist will be on hand to ensure your comfort. I will also check in on you. You'll remain there until you are awake and ready to be moved to your room at the Fairview Recovery Retreat or go home. 
You'll be given detailed post-surgery care instructions. Recovery from a facelift typically takes 10-14 days. Abstain from any strenuous activity for at least two weeks. Avoid steam baths, hot hair dryers, curling irons, and saunas for up to 4 weeks, and avoid having your hair colored for six weeks. 
You can resume a regular schedule within a few days, although some patients prefer to allow more social downtime until the swelling and bruising have significantly reduced. Most people will be able to work from home 3-5 days after surgery. Expect to have a bandage in place for a week, which you can remove temporarily to shower or run quick errands. 
You'll return to our office after one week so we can remove the bandages and clean out the incisions. Depending on how you've healed by that point, you may need to continue wearing a bandage at night a while longer to help with healing. 
To learn more about what you should expect from a facelift recovery, please read this blog by American Society of Plastic Surgeons.
Mini Lift Recovery
If your procedure requires a local anesthetic, you may feel some numbness that will soon wear off. You'll need to arrange for someone to drive you home and stay with you for the first 24 hours of your recovery, if possible.
Mini lifts require 5-7 days of recovery. In fact, mini-lifts are sometimes called "weekend facelifts" because patients can have the procedure on Friday and often resume normal activities on Monday.
Our cosmetic surgery experts will be on call 24 hours a day to answer any questions or concerns during your recovery and healing.
6. What will I look like?
You may see as many as ten years taken off, but the best testimonials for facelift surgery are the before and after photos of previous patients. 
Results from facelift surgery can last 10+ years. 
7. How much does a facelift cost?
Three main factors impact the cost of a facelift procedure:
Surgeon's Fee

Anesthesia Fee

Facility Fee
What does the surgeon's fee cover?
The surgeon's fee covers the surgeon's time spent performing the surgery, which can vary from 3-6.5 hours. It also includes the cost of all appointments with your doctor—usually 2-3 appointments before surgery and at least eight appointments in the year following surgery.
What does the anesthesia fee cover?
All of my patients undergo a facelift with general or local anesthesia. The anesthesia fee covers the services of the anesthesiologist or nurse anesthetist, as well as the expensive medications and equipment used during your procedure.
What Does the Facility Fee Cover?
I perform surgeries in my private, accredited surgical facility. Your facility fee will vary depending on the complexity of your procedure and your recovery period (if you choose to use Fairview Recovery Retreat).
What is the main variable determining price range?
Time is the main variable. The shorter the procedure, the less time a patient requires anesthesia, the facility, and my services. The time in the operating room depends on the complexity of the surgery.
What is the general cost of a facelift in Charlotte?
The cost ranges from $9,000 to $16,000 for a facelift, and most patients fall somewhere in the middle of this range. The price increases when patients add other procedures, such as facial liposuction, eyelift, facial fat grafting, and platysmaplasty.
Why Carolina Facial Plastics is the Right Plastic Surgery Clinic for Your Facelift
I provide patients with advanced facelift techniques that restore a youthful appearance and self-confidence. Because my practice focuses exclusively on the face, I am uniquely qualified to provide the highest level of expertise and care throughout your procedure.
Whether you choose a traditional facelift or a mini lift, Carolina Facial Plastics in Charlotte, NC, can help turn the clock back and give you a rejuvenated, youthful look. Schedule your consultation today.