You're convinced that your face does not reflect the vitality and energy you have, and a facelift is the best solution to helping you restore a more youthful appearance and boosting your self-confidence. But how do you know which facelift procedure is right for you?
There are several types of facelift procedures because every face is different. At Carolina Facial Plastics in Charlotte, NC where we focus 100% on cosmetic treatments for the face, I can perform specific procedures to address different parts of the face. We don't employ a one-size-fits-all approach but rather, we develop customized treatment plans based on your unique needs and goals. Below, we're highlighting various facelift techniques, so you can better decide which procedure would be best in helping you achieve your desired aesthetic outcome.
Is a Facelift the Right Choice for You?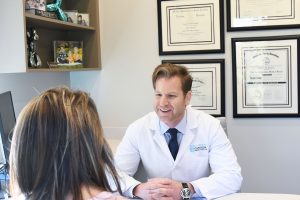 At our medical spa, I can perform a variety of facelift procedures, including surgical and non-surgical options. The procedures I recommend will depend on your skin condition, bone structure, facial anatomy, and rejuvenation goals. Surgery is the right choice when you have severe aging symptoms and significant skin laxity, and you want dramatic and long-lasting results.
For me, one of the most important aspects of any procedure, especially a surgical one, is the initial consultation. This meeting is a collaborative exercise between doctor and patient, so we can establish a channel of communication and trust while we develop a personalized surgery plan that will help achieve your desired facelift results.
I underwent extensive facial plastic surgery training from two renowned Beverly Hills plastic surgeons, Dr. Babak Azizzadeh and Dr. Paul Nassif. My training and expertise in advanced surgical techniques ensure you will receive beautiful and natural-looking results.
Rejuvenation Without Surgery: The Liquid Facelift
We all share the common signs of aging; lines, wrinkles, volume loss, and skin laxity. While surgery offers the most drastic and permanent option for those seeking dramatic facial rejuvenation results, going under the knife isn't the only solution. At our state-of-the-art facility, we offer the liquid facelift for patients that are not surgical candidates or interested in undergoing surgery.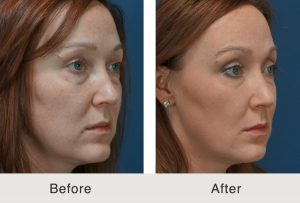 A liquid facelift is a procedure where we combine various non-surgical and non-invasive techniques to provide full facial rejuvenation by filling and lifting the face while softening facial lines and wrinkles. This procedure relies solely on the use of injectable facial fillers and neuromodulators to improve facial appearance. Our expert injectors in our Charlotte, NC medical spa, Heather Bryant PA-C, Courtney Whitley, FNP-C, and Amanda Piligian, PA-C have great insight into the art of facial rejuvenation with injectables.
We continue to expand our roster of injectables, and the wide selection allows us to tailor treatments to each of our patient's unique needs and goals. Products we commonly use for a liquid facelift include:
Botox®

Dysport®

Juvéderm®

Restylane®

Restylane Lyft®

Voluma®
While neuromodulators smooth lines and wrinkles, dermal fillers add volume to the face, providing structure to lift sagging skin. We restore lost volume to the individual fat pockets, and this technique allows for the most natural-looking results. The most common comment I hear from my patients after a liquid facelift is, "This is how I used to look."
Get a Quick Lift with Threads
You may also reverse the signs of aging with a PDO thread lift. More advanced than injectables but still less invasive than surgery, a thread lift uses absorbable stitches strategically placed underneath the skin to enhance facial balance and proportions, as well as create a more lifted look. PDO stands for polydioxanone, which is the name of the stitch material used to lift the tissue. It's a quick procedure (less than an hour), and the results are instantaneous.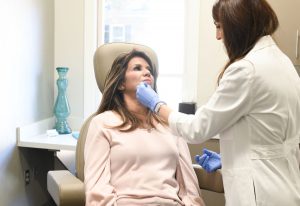 My team and I can lift multiple facial areas with a thread lift. The following are common treatment locations:
Mid-face and cheeks

Lower-face and jowls

Eyebrows

Nose

Neck
Benefits of a thread lift include smoothing smile lines, contouring the jawline, and raising a droopy nose tip. We may also produce the popular "cat-eye" and "snatched chin" results at Carolina Facial Plastics.
Go Mini for Early Aging Symptoms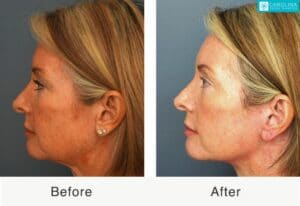 A full facelift procedure may be unnecessary for many people who need just a few small adjustments to correct early signs of aging. With expert care, I can help you turn back the clock on aging with the minimally invasive mini facelift procedure.
While a standard facelift surgically adjusts various parts of the face and neck, a mini facelift only focuses on a few key features using less extensive dissection and cutting, allowing for a shorter procedure and recovery time. A mini lift procedure lifts the neck, chin, and lower face to create a subtly more defined face and neck. Specifically, a mini lift removes excess skin and fat to help angulate the jawline and create an overall more youthful, lifted appearance.
The Classic Approach: SMAS Facelifts
The SMAS facelift procedure is the most common type of facelift procedure. You can benefit from it if you are in good physical and mental health and are looking to restore your facial appearance to address signs of aging like deep wrinkles and sagging skin.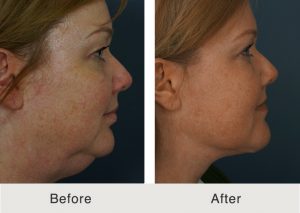 The SMAS facelift utilizes a surgical technique to flatten creases in the face and neck regions while also negating the sagging in the cheeks and jowls. As its name suggests, the SMAS facelift addresses the superficial musculoaponeurotic system (SMAS), which consists of layers of deep fascia tissue and muscle that cover the anterior face and neck. 
During the procedure, I will create incisions in the temple and hairline which are carried to the ear area and hidden inside the ear or in a skin's natural crease. I will then separate the skin from the SMAS and trim excess tissue beneath the face. I will re-holster the skin higher, creating a tighter and more "lifted" effect. In some cases, I may also remove fat deposits to further sculpt the face. I will also trim skin, re-drape it, and secure tissue with sutures.
Essentially, the goal of a SMAS facelift is to correct midface sagging, marionette lines, jowls, and double chins. For more information, please click here. 
Why Stop with the Face?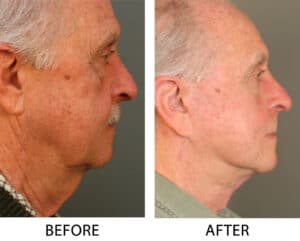 Aging does not occur in one area at a time. This is why facelift surgery often includes a neck lift procedure to achieve a more cohesive, younger-looking appearance.
When performing a face or neck rejuvenation procedure, I believe in the need to lift the deeper tissues and muscles before excising the loose skin to provide natural and long-lasting results. I never recommend targeting the loose skin alone when addressing signs of aging, even though the skin is the most visible concern.
I use the "hammock maneuver" to perform neck lifts. As the name suggests, the technique is similar to tightening the sides of a hammock. First, I will make a small incision underneath the chin to hide post-operative scarring. Next, I will identify and tighten the platysma (the muscles of the throat region) to produce an angled jawline. Finally, I will tighten the deeper tissue along the jawline and around the lower part of the ear to pull up the sagging tissue. This technique results in a smooth and very defined jawline. Additionally, many patients also opt to have excess fat on the neck and jowls removed through liposuction at the same time as the surgical neck lift to produce optimal results.
When More is Really More
While a surgical facelift remains the gold standard in facial rejuvenation, it is not an end-all solution to the signs of aging that appear on the face. Facelifts alone cannot address perioral areas (around the mouth), as well as target nasolabial folds (deep wrinkles or lines that form from the bottom of the nose to the corners of the mouth). Pairing a facelift with other procedures, therefore, can address a wider array of cosmetic concerns.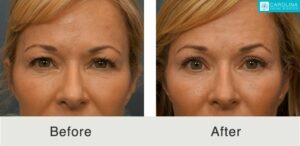 I often combine facelifts with blepharoplasty (eyelid lift or eyelid surgery). Since a facelift only focuses on the mid or lower face, patients with tired-looking eyes may also want to see results in the face's upper portion. During a blepharoplasty procedure, I will remove excess fat and sagging skin around the upper eyelids, lower lids, or both. In conjunction with a facelift, a blepharoplasty refreshes the eye area for an overall refreshed appearance. 
Similar to a blepharoplasty, a brow lift can also enhance the upper face area, because an aging face isn't characterized by sagging loose skin alone. Sometimes, patients need an additional lift, and a brow lift procedure can help tighten excess skin in the face's upper third area. The procedure can restore sagging brows and help diminish forehead lines.
Facelifts can be paired with non-surgical treatments too. For instance, a facelift can be paired with injectables such as neuromodulators. Using Botox and Dysport will help relax muscle-causing facial wrinkles associated with repetitive movements. These wrinkle-smoothers can treat areas of the face that cannot be addressed by a surgical facelift: frown lines, crow's feet, and forehead lines.
Facelifts and lasers also make a great combination procedure as well. While a facelift can alter the skin's "shape," it cannot do anything to change how it looks. For example, it can't treat issues such as unwanted pigmentation. This is why I strongly believe in a medical-grade skincare regime that includes laser treatments such as the CoolPeel. These laser treatments can improve the tone, texture, and fine lines of the entire face and neck. Lasers do not damage the skin's outer layer but rather, penetrate into the dermis to improve skin from the inside out. When performed in conjunction with a facelift, it can provide superior results.
Schedule A Facelift Procedure Today at Our Medical Spa
We want your face and neck rejuvenation procedures, especially the surgical ones, to be safe, comfortable, and successful. This is why I opened Fairview Surgical Suites, a state-of-the-art specialty surgical facility designed to provide cosmetic surgery patients with the best possible care and results. By offering this all-inclusive aesthetic destination, you can get your treatments and enjoy a portion of your recovery in a luxurious, private setting in Charlotte, NC. To learn more, contact Carolina Facial Plastics to schedule a consultation.