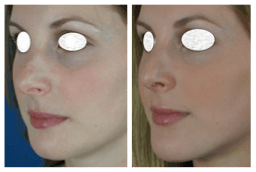 Even though individuals often think that the final goal of a rhinoplasty is to make the nose smaller or to reduce the size of a large nasal hump, we recently had a patient who wished to make her nose larger to better fit her face. Often times, a nose that is too small can have the exact same effect on a persons face as a nose that is too large, drawing additional unwanted attention to the feature. As an experienced facial plastic surgeon in Charlotte, North Carolina with a special training in rhinoplasty surgery, Dr. Jonathan Kulbersh knows that the best way to achieve natural results is to build a nose that compliments the other facial features and does not overpower them.
How Do I Make The Nose Bigger?
When the goal of a rhinoplasty is to make the nose appear larger, it is often due to the presence of other strong facial features, like the chin, forehead, or cheeks. Because this patient was dealing with facial features that tended to pull away from one another to fight for the spotlight rather than bring balance to the face, making the nose larger is the best way to settle and calm a softer facial appearance. This patient specifically was dealing with a nose that had a deep scoop in the profile and was very up-turned from the frontal view.
In the case of this patient, the best way to make the nose appear larger was to build up the current scoop in her nose and rotating the tip downward. Making a nose larger often involves the use of additional cartilage through cartilage graft, because we need to add to the nose and not take away as in most other rhinoplasty surgeries. After the procedure, the patient was ecstatic with her results as her new nose brought an immense improvement in her facial balance. To learn more about a rhinoplasty, visit medlineplus.gov
Schedule Your Rhinoplasty Consultation With Us in Charlotte, NC
Dr. Jonathan Kulbersh is both an expert in facial injectables and rhinoplasty. He is a double board-certified and fellowship-trained facial plastic surgeon with an office in the South Park area of Charlotte, North Carolina. If you would like to learn more about your options for a rhinoplasty, please consider a consultation at our office. A consultation can be requested by calling (704) 842-3644 or using our online contact form.
For additional information about undergoing a rhinoplasty in North Carolina at Carolina Facial Plastics, visit our FAQ page for nose procedures.