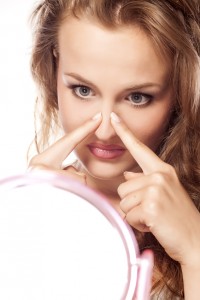 For the September issue of Seventeen a print magazine for teenagers and adolescents, rap artist Iggy Azalea tells all, opening up about her recent nose job procedure. Speculations arose in May, when Azalea appeared on the red carpet with what many Twitter users dubbed a "brand new face."
"I'm not denying it," she tells the magazine during her interview. "Hiding it is lame."
Iggy Azalea is no stranger to plastic surgery. In fact, earlier this year Azalea revealed to Vogue that she underwent a surgical procedure to augment her breasts and loves her new busty figure.
In her interview, she admitted to Vogue that she was tired of having to wear so much padding during photo shoots to enhance her once meager breasted figure.
Though the rap singer has always been straight forward about who she is, Azalea expressed that she was initially hesitant to reveal that she had gotten implants, due to the amount of impressionable young fans she has. For procedures like rhinoplasty, one has to be at least 15 to undergo the procedure.
But in her interview with Seventeen Azalea makes it clear that she finds nothing wrong or shameful about plastic surgery.
"It's no easy feat to live with your flaws and accept yourself — and it's no easy feat to change yourself," she tells the magazine. "Either way you look at it, it's a tough journey. There are things that I didn't like about myself that I changed through surgery. There are other things I dislike but I've learned to accept."
Indeed, with advanced surgical techniques on the rise, rhinoplasty procedures are becoming more and more common. In fact, nosereshaping was the second most common procedure of 2014. For some revision rhinoplasty procedures, such as fillers, the procedure can take as little as 15 minutes of your time.
In today's society, there is an immense amount of pressure to look a certain way, but at the end of the day, it's all about feeling comfortable in your own skin. Iggy Azalea's recent interview just goes to show that self acceptance comes in all forms, and for many, it comes in the form of plastic surgery.