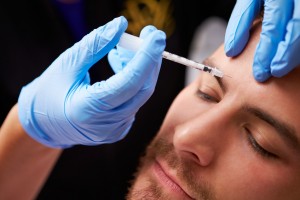 In today's youth-focused society and precarious economy, many men and women are turning to cosmetic procedures to portray a youthful and energetic look to stay competitive their careers. Older employees may be at a disadvantage in the workforce, and can be a motivating factor to seek out aesthetic treatments and services for a rejuvenated appearance. Youth is associated with vitality.  I find one of the primary motivations in patients coming to see me at my boutique facial plastic surgery practice is they want to look on the outside how they feel on the inside. For many, they don't want a drastic change – they prefer to look like they had a long vacation rather than as if they've had work done. Dr. Kulbersh is an expert in creating natural looks that rejuvenate the appearance without looking "plastic."
Non-Invasive Cosmetic Procedures
With the rise of non-invasive procedures such as Botox, facial fillers, and skin tightening devices, many people are choosing a nonsurgical "liquid facelift." Botox or Dysport can lessen the appearance of dynamic wrinkles, such as forehead lines and frown lines, while dermal fillers, such as Restylane and Juvéderm, can help soften smile lines and deeper wrinkles as well as add volume to sunken cheeks or temples. Volume can be added to the face to create height and definition in a manner to create and awake and youthful appearance.
Men especially look for procedures with very natural results, as it is considered a mark of dignity and experience to have a few wrinkles and signs of age. Dr. Kulbersh will recommend and perform nonsurgical procedures in a different manner for men than women. For example, high undefined cheekbones are beautiful on women but look unnatural on men. Men will lose volume in the cheek region causing a sunken look in the area. Volume can be successfully added in this area to create a masculine look without creating a feminine appearing cheek. Additionally, men may seek to augment the chin. A nonsurgical chin augmentation for a man would be shaped to create a strong an angulated jawline. This shape would be masculine on a female. A female chin augmentation would be softer and smaller.
Women as well are increasingly looking to age gracefully, choosing to take a few years off their appearance rather than trying to look significantly younger. I commonly recommend that females use a combination of Dysport, facial dermal fillers, and medical grade skin care to refresh in the face. I like to use facial fillers to reform a more youthful balance in shape to the face. I commonly recommend medical grade skin care to include chemical peels, micro-needling treatments, and individualized homecare regime. The skin takes about three months to turn over and for patients to begin to see results of their skin care. Skin care is a fundamental basis of the treatment plan that I recommend for patients seeking to age gracefully.
Facelifts and Mini Lifts
Facelifts and mini lifts continue to be a popular choice for men and women who want better and longer lasting longer. If a patient is a candidate for a mini facelift or facelift, the overall results will be better with surgery. Dr. Kulbersh understands that for a variety of reasons patients may choose not to undergo surgery. For these patients, Dr. Kulbersh wants to stress that nonsurgical treatments can create significant improvements in patients are very pleased with the results.
A facelift is a good choice for a person who is exhibiting significant signs of age that may not be able to be corrected with non-invasive procedures. A mini lift is geared towards people who are experiencing early signs of age and want immediate, long-lasting results. Each facelift or mini lift performed by Dr. Kulbersh is customized for the individual patient, taking into account their goals, lifestyle, and tolerance for downtime.
While facelifts do require more downtime than non-invasive procedures, they are still considered one of the best options for facial rejuvenation. When done by an experienced facial plastic surgeon, such as Dr. Kulbersh, the results can be life-changing. Men and women can feel more confident that their looks match their personality, and feel more secure in their skin.
Schedule a Cosmetic Surgery Consultation Today
If you are learning more about your options for facial rejuvenation, you may contact, Dr. Kulbersh at Carolina Facial Plastics. Carolina Facial Plastics is located in Charlotte North Carolina near the Southpark Mall. To schedule a consultation, call (704) 842-3644 or fill out the online contact form.