A blepharoplasty, also known as eyelid surgery, is a procedure that lifts and contours the eyelids to refresh your appearance. It can be a highly satisfying treatment option for the right patient. With the proper preparation before your procedure, you can ensure your blepharoplasty will be both safe and successful.
As the Beverly Hills-trained, board-certified facial plastic surgeon at Carolina Facial Plastics in Charlotte, NC, I work with an expert team to help our patients achieve all their aesthetic goals.
Blepharoplasty is one of the procedures I offer for facial rejuvenation at our plastic surgery clinic, whether as a stand-alone surgery or combined with other treatments such as a brow lift or facelift to enhance your results.
I perform all my procedures in my state-of-the-art, accredited Fairview Surgical Suite.
Find the Right Facial Plastic Surgeon
All board-certified plastic surgeons can perform an eye lift. However, facial plastic surgeons specialize in surgery involving the face, giving them more experience and expertise in procedures like blepharoplasty.
I always encourage my patients to ask plenty of questions before scheduling a procedure with a surgeon. When you collect information about the surgeon and procedure, you will go into your surgery much more comfortable with your decision.
Some questions to consider include:
Are you board-certified in facial plastic surgery?

Where did you study and get your medical training?

How long have you been practicing facial plastic surgery?

How many eye lifts have you performed?

Why do you think blepharoplasty is the right choice for me?

Are there other procedures you might recommend for me?
Research the Procedure
I also encourage patients to educate themselves about their procedure before undergoing any surgery. Blepharoplasty might involve just the upper eyelids, the lower eyelids, or both lids at the same time. Visit ncbi.gov to learn more about blepharoplasty.
It is important to understand exactly what to expect from your procedure, from the pre-op instructions I provide to the recovery process.
Realistic expectations also ensure you are pleased with the results of your procedure.
Understand the Cost of Blepharoplasty
According to the American Society of Plastic Surgeons, the average cost of cosmetic upper eye lift surgery was $4,120 in 2020. This surgery is not typically covered by insurance, so patients cover the cost out of pocket.
We have a number of options for financing your surgery, and a member of our team would be happy to cover those with you.
Let us know how we can help with the financial planning for your blepharoplasty.
What To Expect From Blepharoplasty Recovery
I spend time talking to my patients about what they should expect from their recovery process after blepharoplasty. While patients are often pleasantly surprised at how little discomfort they actually experience, you will still need to take some time off of work and activities to heal.
The eyes will need time to rest – I recommend giving them about a week. Bruising and swelling are common after eyelid surgery and typically subside within that first week as well. Patients are usually back to their regular activities within 1-2 weeks.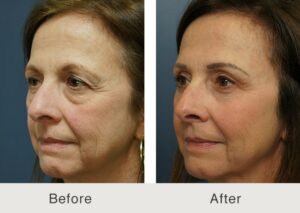 Tips For a Quicker Recovery
Recovering from blepharoplasty surgery may take some time, but the results are certainly worth it. I give my patients full post-operative instructions to keep them comfortable after surgery and help them heal as quickly as possible. Some of my recommendations include:
Clear Your Schedule.

Before your blepharoplasty, schedule time off for your recovery. After your eyelid surgery, you should take at least five days from work or daily activities to rest and recuperate. Strenuous activity should be avoided for about three weeks.

Follow all Post-Op Instructions.

Your post-op instructions might include these steps:
Use ice packs, frozen peas, or cool compresses for the first few days to relieve swelling.

Use topical products that I prescribe to keep eyes moist and reduce scarring.

Do not rub your eyes while they are healing.

Do not wear contact lenses for approximately two weeks after your eyelid lift.

Keep your head above your chest when you sleep for the first few days.

Quit smoking for at least two weeks before and two weeks after surgery.

Do not use ibuprofen, such as Motrin IB or Advil, aspirin, or naproxen sodium, such as Aleve, as these can increase bleeding and bruising.

Do not use supplements, including fish oil, vitamin E, cranberry extract, that could also exacerbate bruising and bleeding.
Be Patient.

Be aware that your eyelids may be puffy and your incision may be red. You will also see bruising around your eyes, like black eyes. Stay patient with your recovery. Following our instructions is the best way to recover fast and see the results as you heal.

Protect Your Eyes.

Block your eyes from wind, sunlight, and other elements during your recovery. Wear dark sunglasses and a hat if you must go out. Also, put on sunscreen to protect your eyes.

Do Not Strain Your Eyes.

Avoid watching TV, reading, using the computer, or anything else that puts strain on your eyes for the first few days. You also want to avoid things that may cause your eyes to dry up. Give your eyes plenty of rest so they can heal quickly.

Get Enough Sleep.

Getting proper sleep will help speed up your recovery. If you feel tired, take a nap. Do not push yourself to do too much during the first week of recovery.

Avoid Strenuous Activity.

Avoid lifting heavy items, aerobics, intensive exercise, sports, and any other activity that might increase blood flow or strain your eyes. Engaging in these activities could increase your risk for bruising and bleeding after surgery.
Schedule a Consultation at our Plastic Surgery Clinic to Find Out if Blepharoplasty is Right For You
Blepharoplasty is an effective, long-lasting way to refresh your eyes and your entire appearance. If you are interested in learning more about blepharoplasty surgery, contact our Charlotte, NC plastic surgery clinic today.