A procedure that is becoming much more common today than it was several years ago is called a tip rhinoplasty. Often times, patients come into my office for a consultation believing that they're a good candidate for a primary rhinoplasty, though after hearing their goals, it's very clear that they will see better results from a procedure dedicated to correcting only the tip of the nose.
If you're experiencing a bulbous or poorly defined nasal tip, I'd like to let you know how a tip rhinoplasty in Charlotte could be beneficial to you.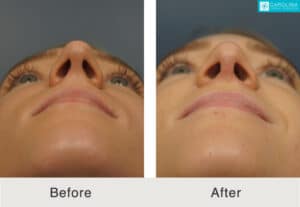 What Is A Tip Rhinoplasty?
A tip rhinoplasty is a procedure offered at Carolina Facial Plastics that can correct problems with the nasal tip. Most commonly, patients who are excellent candidates for tip rhinoplasty are individuals who have a very large or small nasal tip, as well as those who have a tip lacking in definition.  At my office in Charlotte, tip rhinoplasty aims to adjusts the lower third portion of the nose, and does not involve any breaking of the nasal bones in the dorsum or bridge. The ultimate results of a tip rhinoplasty often depend upon what type of skin type my patients have, be it thick or thin. Patients with thin skin tend to see a much more defined nasal result. While it may be more difficult to achieve proper nasal definition in thicker skinned patients, it is by no means impossible.
A tip rhinoplasty is truly a procedure of millimeters, as I believe that achieving a natural and harmonious nasal result is best seen by making many small changes that together create a nose that fits the face but does not change its character. By adjusting the nasal tip, I can create a nose that appears to be the nose the patient should have been born with. A Charlotte tip rhinoplasty is a less invasive procedure than a primary or revision rhinoplasty procedure, which results in less recovery time, bruising, and swelling for my patients.
To learn more about tip rhinoplasty, visit ncbi.gov.
Schedule Your Tip Rhinoplasty Consultation in Charlotte Today
Undergoing a tip rhinoplasty can be an excellent procedure for individuals wishing to correct a minor problem with their nasal tip. If you're interested in learning more about the procedure and how I can help you achieve a more harmonious and balanced nose, please contact Carolina Facial Plastics today by calling (704) 842-3644. During your initial consultation with, I'll be able to address your unique concerns and come up with a treatment plan completely tailored for you. As a board certified head and neck surgeon with a special training in rhinoplasty, I'm confident in my ability to bring you the results you're seeking.
For more information about undergoing a tip rhinoplasty in Charlotte, please contact my office today.