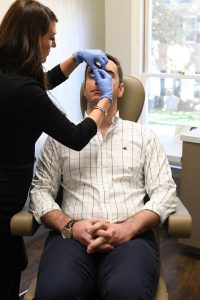 A typical day in this pandemic-induced "new normal" involves using apps like Zoom for meetings and social calls for many people. While trying to stay focused on work or conversing with family and friends, you probably find yourself staring at your own image often. Suddenly, virtual meetings become repetitive opportunities to become acutely aware of your appearance, and you feel as though your eye bags (which have only gotten worse because of increased tiempo de pantalla), wrinkles, and a dull complexion are constantly on full display.
You are not alone. This "Zoom Effect" is prompting people to find fixes for their tired-looking faces, and using quarantine time as the perfect opportunity to get cosmetic procedures done. However, the image you see on the screen may not be an accurate one. Poor lighting coupled with only a partial view of yourself can reveal a distorted image of your face, impacting your ability to realistically choose the procedures that will offer the best results for you.
Como un doble cirujano plástico facial certificado por el consejo, I and my team of cosmetic experts, including board-certified physician assistant Heather Bryant y enfermero practicante certificado por la junta Courtney Whitley, can provide an expert facial examination and work in partnership with you to achieve realistic and natural results in a safe manner. At Carolina Facial Plastics in Charlotte, NC, we can perform both surgical and nonsurgical aesthetic techniques designed to fully enhance your unique attractiveness. We're here to help you put your best face forward, online and offline.
The Zoom Effect
The Zoom Effect or "Zoom Boom" is a residual effect of the pandemic and everyone quarantining. For work and to stay in touch with friends and family, we all have moved to video calls. Not only can we see our co-workers' and loved ones' faces during these calls, but our own images are always in view. We're all staring at our own faces more than ever, and we're scrutinizing what we see. We're noticing flaws we want to fix, and plastic surgeons across the country are seeing an increased demand for all kinds of cosmetic treatments–from Botox® and fillers to skin-tightening treatments and neck lifts.
Por qué distorsiona
What you see on your device is a distorted image. A lot comes into play here–there's the quality and angle of your camera, the lighting in your room, and your position. You are only seeing the front of your face and not your profile, providing an incomplete and unreliable representation of your overall appearance. You may not realize it, but what you identify as considerable flaws might just be minor issues that could easily be resolved with quick procedures such as Botox® Cosmetic injections.
How to Select the Procedure You Really Need
Since the Zoom Effect provides you with a distorted view of yourself, you'll need a trained aesthetic eye to help you decide on the appropriate treatment plan. During your consultation with me, we'll discuss your goals, allowing me and my team to select the treatment (or combination of treatments) that will produce the best results for you. In our Charlotte, NC plastic surgery clinic, we have a wide range of treatment options and devices. I won't recommend surgery if you don't need it. Even with minimally invasive procedures, we can ensure beautiful and natural-looking results. First, consider the type of improvement you're seeking, which may be one of the following:

Facial Balance
While the eyes, nose, and chin are three distinct facial features, all three of them must complement each other to create a balanced profile, which constitutes the foundation of an attractive face.
The nose, for example, is the central feature of the face and plays a significant role in maintaining facial balance. Surgical or nonsurgical rinoplastia can correct a small nasal tip, too narrow or wide nostrils, or a noticeable bump on the nose. To complement the nose and add more structure and definition to the face, I may recommend a aumento de la barbilla. Whether through implants or fillers, an enhanced chin can create a stronger-looking jawline. For a non-invasive approach to achieving facial balance, you may opt for rellenos dérmicos. These injectables are fantastic options that allow you to quickly and effectively improve parts of your face you're not satisfied with. Fillers restore volume and enhance facial contours, giving you smoother-looking skin with features that appear plump and youthful.
Reducción de grasa
Whether it's from aging, weight gain, or if you're naturally born with a round face, there's only so much a "duck face" or makeup contouring can do. There are procedures to help you achieve a slimmer face.
Uno ha terminado liposucción submentoniana. Removing excess fat from under the chin can eliminate your double chin and jowls, revealing a more youthful and sculpted profile. If the unwanted fat is located in the lower portion of the face, buccal fat reduction removes the small fat pocket in this area to create a more youthful heart shape to the face.
To slim down the jawline, Heather or Courtney can inject Botox directly into your masseter muscle (the "chewing" muscle). When this muscle relaxes, your jawline softens into a V-like shape. A estiramiento de cuello may be the right procedure for you if you're experiencing wrinkles and sagging on your neck. By removing excess skin and tightening the underlying neck muscles, your new angulated jawline can make you look younger and more confident.

Fine Lines & Wrinkle Elimination
Thanks to advanced noninvasive procedures, we can detener el reloj sobre el envejecimiento and help you look subtly refreshed without the need for a scalpel.
Injectables in the form of neuromodulators and dermal fillers are quick and effective ways to get a nonsurgical facelift. With their precise placement on your face, we can erase lines and wrinkles, giving an instant lift to your face. Skin resurfacing and collagen induction therapy treatments like with the CoolPeel is a longer-term treatment that helps to restore a more youthful, radiant complexion by removing the most damaged layers of your skin with its high-peak-power pulses of energy, revealing new, healthier-looking skin beneath.
To stimulate collagen production and produce results that gradually improve over time, microneedling is a great option. microneedling crea microcanales en la piel para estimular el cuerpo procesos curativos, turning back signs of aging from the inside out.
Disminuir el zoom
There are also ways to improve your appearance on video calls–it's just like staging a production, really. First of all, make your image smaller so you won't be distracted by your reflection. Then, improve your lighting set-up, either with a ring light or by sitting next to a window so your face can be attractively illuminated.
There is nothing wrong with seeking cosmetic help to make you look and feel better about yourself, especially now when we all have more time to recover at home. Just be sure Zoom isn't deciding your treatments for you. Step back from your computer and nurture yourself with the self-care you really want.
Confíe en nuestra clínica de cirugía plástica para ayudarlo a verse y sentirse lo mejor posible
We want all our patients to look refreshed and feel their absolute best. Whether you are looking to dramatically change your look or would like a nonsurgical approach to enhancing your appearance, we can customize each treatment for you. We are known for providing unparalleled and natural-looking results exclusively for the face and neck, the very areas that are magnified by those virtual gatherings. By focusing 100% on cosmetic treatments for the face, we can produce exceptional results in facial enhancements. To schedule a consultation, contacto our Charlotte, plastic surgery clinic today.