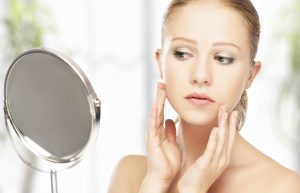 There are plenty of jokes circulating around the dinner tables about how gravity hits with age and everything starts to sag. Funny? Yes. But, it's also factual. As humans age, our skin loses its elasticity and starts to sag, most notably the face and neck. So what can we do to reverse the signs of aging? Usually, the more drastic surgical techniques come to mind like a face or neck lift. What we want people to know and realize is that there are many, less drastic, non-invasive, non-surgical techniques that can create great results. So, let's talk about facial filler treatments.
What are Facial Fillers?
Facial fillers, also known as dermal fillers, are injectables that restore volume to the face. They are usually comprised of either hyaluronic or poly-L-lactic acid. The most common types of facial fillers are Juvéderm, Restylane, and Sculptra.
What is Hyaluronic Acid?
Hyaluronic acid is a viscous, naturally occurring substance found in the human body. It is primarily found in the eyes and connective tissue. This makes it completely natural and safe to be injected into the human body as a dermal filler. Basically, as we age, our body loses its hyaluronic acid, which causes sagging, loss of facial definition, and change in the balance of the face. So, by injecting a substance composed primarily of HA, it makes sense that the volume of the face would be restore, lift and define the facial features.
Juvéderm
Juvéderm is a facial filler composed of hyaluronic acid, which is found naturally in the human body. Juvéderm is primarily used to restore volume to the jawline, temples, smile lines, lips, cheeks, chin, and eyebrows. Perhaps the most popular area is the lips, as lip injections are very trendy as of late. There are a few varieties of Juvéderm including Juvéderm Voluma. In my opinion, Juvéderm Voluma is the longest lasting HA filler and is great at lifting and defining the cheek structure.
Restylane
Restylane, like Juvéderm, is also composed of hyaluronic acid. It is commonly injected into the lips, cheeks, jawline, eyebrows, temples, and tear troughs. Restylane is most commonly beneath the eyes in the tear trough region to reduce the appearance of eye bags. Another type of Restylane, Restylane Silk, is commonly injected into the lips. It is designed to be injected into the lip region.
Sculptra
Sculptra is a substance comprised of poly-L-lactic acid, which stimulates the growth of collagen. As we age, we lose the fat and bone within our face that maintains our youthful appearance in our younger years. Sculptra is primarily injected into the temples, cheeks, in front of the ear, jawline, and beneath the eyebrow. Sculptra takes longer to show results than the other facial fillers. As it produces collagen growth slowly, one can expect to see the results of Sculptra injections in one to four months. However, the upside is that Sculptra can last for up to two years.
The Needle-less Injection
At Carolina Facial Plastics in Charlotte, we believe in using the needle-less injection technique. Dr. Kulbersh uses an instrument called a blunt tipped microcannula to perform all facial filler injections. This facial filler technique was created to reduce the amount of bruising and swelling from injections, as well as the level of pain, ultimately increasing the overall level of comfort during and after the procedure. With a blunt cannula, a few sticks with a minuscule needle are made, just enough to create a hole for the cannula to be inserted. The cannula is a longer instrument that can reach many parts of the face from that one hole, allowing for fewer needle sticks. The blunt tip also pushes the tissues to the side, unlike a needle, which pushes through the blood vessels and tissues. By doing so, less swelling and bruising is experienced during injections.
Which Filler is Right for Me?
Ultimately, this is a decision to be made between doctor and patient. During the facial filler consultation, the patients should clearly and realistically state the goals and desires hoped to be achieved from the procedure. Then, the doctor can give an experienced and honest recommendation on which dermal filler would work best. Sculptra is an excellent choice for overall restoration of the face (cheeks and temples and brow). Juvéderm is excellent for the chin, temples and cheeks. Restylane is great for lips and under eye region. The decision on which is the best facial filler for a patient is based on:
Region of face
Longevity of filler
Thinness or thickness of filler
Patient's budget
As long as you do your research and find an experienced physician who specializes face and neck procedures and are clear about your expectations from the procedure, the doctors should be able to help you choose the right dermal filler during your consultation. Learn more about facial fillers at WebMD.com.
Schedule a Consultation with a Double-Board Certified Facial Plastic Surgeon
Dr. Jonathan Kulbersh is a Beverly Hills trained double board-certified facial plastic surgeon with an expertise in facial filler injections. To schedule a treatment consultation at Carolina Facial Plastics in Charlotte, NC, and learn more about the benefits of dermal fillers, please call (704) 842-3644 or fill out the online appointment request form.
Next, read What Nose Issues are Best Solved by Non-Surgical Rhinoplasty?