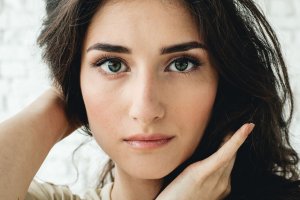 Aesthetically, the nose is crucial to the proportion and harmony of your facial structure. An abnormal shape or irregularity, such as a bump on the bridge, can cause the face to look unbalanced and less attractive than you'd like.
Improvements can be made to the nose via rhinoplasty, but maybe you're not willing to make a commitment to a full surgical procedure. At Carolina Facial Plastics, we understand.
Did you know a non-surgical rhinoplasty can improve your nose and overall facial features and harmony? In this blog, we'll explore this innovative technique perfected by double board-certified Charlotte facial plastic surgeon Jonathan Kulbersh who uses the liquid nose job to improve his patient's noses without the downtime of a surgical procedure.
You're Likely a Good Candidate If…
You're looking to improve your nose but are worried about a surgical procedure, then a non-surgical rhinoplasty could an ideal solution.
You, like many of our patients, want to try out a non-surgical procedure to see how your new nose looks.
An effective, pain-free way to appraise your new appearance is appealing to you.
Like many of our patients who've undergone a nose job, you're likely to be pleased with how harmonious and balanced your facial features are with a non-surgical rhinoplasty to the point that you're ready to commit to a permanent surgical correction.
If any or all of the above apply to you, then it may be a good idea to contact us to find out more.
What Is a Non-surgical Rhinoplasty?
According to the American Society of Aesthetic Plastic Surgery (ASAPS), surgical rhinoplasty is among the top ten requested cosmetic procedures in the country, (with over 200,000 procedures performed during 2017).
However, not everyone is ready to commit to surgery. The National Institutes of Health report that non-surgical rhinoplasty is on the rise over the past few years, as it's been shown to be an excellent option for a patient concerned with an aesthetic improvement of the nose only, but doesn't want significant downtime.
Non-surgical rhinoplasty is designed to improve the shape and appearance of the nose without the need for surgery and its subsequent recovery. By using injections of dermal fillers – such as Juvéderm®, Restylane®, or Voluma®  – Dr. Kulbersh can enhance the nose by reducing bumps, correcting asymmetry, and/or diminishing other types of nasal irregularities. The results can last up to 24 months!
Benefits of a Non-surgical Rhinoplasty Procedure

This isn't a one-size-fits-all treatment. With hyaluronic-acid (HA)-based fillers, Dr. Kulbersh can immediately deliver you a straighter nose that's in balance and harmony with the rest of your face. Yet, an expert injector like Dr. Kulbersh will assess your features and make customized corrections with fillers to accentuate them. For example, if you have beautiful eyes or cheekbones, fillers can be used to improve the shape of the nose so it blends seamlessly and allows those features to take center stage.
Three other benefits include:
A non-surgical rhinoplasty is an excellent solution if you've had previous rhinoplasty that didn't turn out the way you wanted.
It helps you avoid another surgical procedure, revision rhinoplasty, to correct any such issues pertaining to a previous rhinoplasty.
Many of our patients appreciate that this procedure is temporary and actually reversible. If you're unhappy with the results, Dr. Kulbersh can dissolve the HA dermal filler in a matter of minutes.
The Only Place to Get the New, Improved Nose You Want: Carolina Facial Plastics
Dr. Kulbersh trained and honed his skills under the tutelage of the most prominent facial plastic surgeons in the world, including Beverly Hills facial plastic surgeon Dr. Paul Nassif of the television series "Botched". Dr. Kulbersh's surgical training and experience with injectables – along with his expertise in facial harmony and artistry toward facial proportions – has him among the most in-demand facial plastic surgeons in the country.
If you're thinking about improving your nose, schedule a consultation at Carolina Facial Plastics today by visiting online or calling 704.842.3644.
Next learn about how rhinoplasty can be used to make your nose smaller